Mountain Artists Guild festival is this weekend; every space is filled

Originally Published: August 9, 2018 10:08 p.m.
Every space is filled in Mountain Artists Guild's 68th annual August Arts & Crafts Festival, with 141 vendors set to fill out courthouse plaza this weekend.
It's the first time the August show has had all its spaces filled and there are even a lot of new vendors, including a Native American named Elvis Stillwater who is coming from Montana, said organizer Janis Keeling. It's been interesting putting these on, especially with the show in May having been the first one she and the other organizers have put on, she said, adding that it's been a learning experience.
The show is part of how Mountain Artists Guild can continue to go on and service the community as it helps pay for the Guild's programs, President Cathleen Rainey said.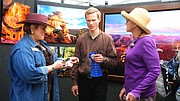 "It's a huge thing for it to be successful," Rainey said. "It's to keep us in the community and to keep us active in the community. To have it filled is phenomenal."
Held from 9 a.m. to 5 p.m. Saturday, Aug. 11, and from 9 a.m. to 4 p.m. Sunday, Aug. 12, at the courthouse plaza, the juried festival showcases select artisans and crafters. The show will also have information that was not present in the May show, including the Arizona Rangers with a tent up about themselves and their activities, Keeling said. The Rangers provide security for the show at night. A local group of quilters will also be raffling off a quilt and Ken Ottinger, an instructor at Yavapai College will be doing a demonstration of his art, she said. Ottinger does everything from oil paintings to metal sculpture.
Just as it was in the last show, favorite artists have been put in different spots in order for people to be able to walk the whole plaza and see everyone, she said.
"Even all of Goodwin will be filled. We deliberately did not put people in the same spot they were for the last show," Keeling said. "We really wanted you to go looking for your favorite people and discover everybody else."
For more information about Mountain Artists Guild or the 68th annual August Arts & Crafts Festival, visit www.mountainartistsguild.org.
More like this story
SUBMIT FEEDBACK
Click Below to: