Residents connect with town officials, first responders on National Night Out

Originally Published: August 8, 2018 8:49 p.m.
National Night Out in Prescott Valley was all about connecting residents with town officials and first responders, and also to initiate conversations and actions about neighborhood safety.
Prescott Valley town staff, police and fire officials received applause and handshakes wherever they stopped Tuesday, Aug. 7, at neighborhood gatherings. At Victorian Estates, they also fielded questions from residents about roads, crime, and flooding, and enjoyed an ice cream social.
This year, 16 groups hosted National Night Out get-togethers, said Jason Risinger, spokesman for Prescott Valley Police Department (PVPD). "This is what makes the town so special," he said.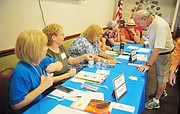 In the Stoneridge community, eight Block Watch areas with 27 captains keep an eye on about 1,100 homes covering all phases of the development, said Ira Bresof, captain of Phase 4.
Victorian Estates, a gated community off Highway 69 on the west end of town, however, discontinued their Block Watch groups.
"There was no need for it," said Barbara Lucas, HOA vice president, adding that everyone regularly looks out for each other.
Mayor Harvey Skoog answered questions about the availability of water, and plans for the former Sam's Club.
"I have heard there's some activity," was all Skoog would say about the vacant building.
When asked about an increase in traffic with 220 apartment units coming in on Florentine, Skoog pointed to Norm Davis, Prescott Valley Public Works director, and several police officers.
"Talk to those guys," he said with a laugh.
Sgt. Jason Kaufman offered information about substance abuse problems in Prescott Valley's young adults, scam artists hitting on the town's older residents, and car and home burglaries.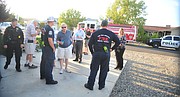 He acknowledged the difficulty in enforcing traffic laws regarding vehicles turning left from Highway 69 onto Glassford Hill Road. Earlier that morning, he said he counted three vehicles making the turn after the light changed, but couldn't do anything because he was 20 cars back.
Kaufman also explained that PVPD investigates collisions that happen at the intersections along Highway 69, and the Arizona Department of Transportation takes care of collisions occurring between intersections.
As town staff and police officers left the room, members of Central Arizona Fire and Medical Authority pulled up in a truck for another round of applause, ice cream, questions and answers.
Next year's National Night Out event is Tuesday, Aug. 5.
Follow Sue Tone on Twitter @ToneNotes. Reach her at stone@prescottaz.com or 928-445-3333, ext. 2043.
More like this story
SUBMIT FEEDBACK
Click Below to: