Johnson: Exploring Weatherford Loop, be prepared
Hiking Arizona

Originally Published: August 8, 2018 9:38 p.m.
Hiking beyond timberline involves a greater probability of exposure to high winds, heavy rain, lightning and snow any time. Therefore, an early start is generally recommended as the best insurance for reaching your destination before severe weather has a chance to develop.
Adequate gear, such as wind and rain protection is standard. Clear skies in the morning mean nothing when it comes to what you might expect on your descent later that day.
Today, we're heading to Weatherford Loop, San Francisco Peaks. Three trails constitute the Weatherford Loop.
SnowBowl offers a convenient trailhead where you could hike south and east on the Kachina Trail #150 until you encounter the actual Weatherford Trail #102. From this juncture you head north into the Inner Basin and veer west to the Summit Trail #151. This junction is at a saddle, which is just over timberline. You could head north to the summit of Arizona's highest peak then return to complete the loop or continue the hike without going to the summit.
Having hiked with a variety of individuals over the years on these trails, I remember Milkah with the greatest fondness. She was tough, from the old country and she had many a tale to tell about her hiking adventures in Serbia. There, they had a tradition of whipping the back of your legs with branches if you were strong enough to reach a summit. As tough as she was, her knees did not like the descent from timberline. She made it (of course), but it was slow going.
Another member of that group was a newcomer in town, from Panama. For her it was torturously slow going uphill. While there are various approaches to acclimate to alpine conditions, you should do all you can to prepare for the change in altitude so as to avoid excessive difficulty.

It will be tough enough as it is. Don't add insult to injury. I have talked with hikers on the Weatherford Trail training for races in Leadville, Colorado, because they understood the importance of getting acclimated to high altitude before you arrive at the trailhead, way before.
If caught in a sudden downpour, like I was this past week, be flexible enough to stop and seek shelter. Odds are though, there won't be any above timberline. Sometimes there is an overhang or a wall of rocks to get out of the wind. If you can get below tree line, you have much less to worry about.

At least in the summer, getting soaked is not as dangerous as in winter, but above timberline, it doesn't take long for the temperature to drop quickly to the point where hypothermia could become a serious threat.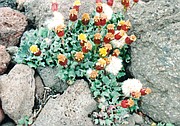 We all know that the best way to break a bad habit is not to start one. Likewise, the best way to remain dry in the wilderness is to not get wet in the first place. Forewarned is forearmed.

One of the unique attractions on this hike is a rare plant, San Francisco Peaks Groundsel (Packera franciscana). I say "unique" because it grows nowhere else in the world. Therefore, it is prohibited by the Forest Service to hike off any of the trails above timberline on the San Francisco Peaks.

Some of the concern is general erosion because of the high traffic on the Summit Trail, but the occurrence of this plant along the Weatherford Trail is an additional concern. Concerns increase above timberline but so do the delights.
Next: Starting out above 10,000 feet in elevation.
Ted Johnson is a columnist for The Daily Courier. Reach him by email at sportsdesk@prescottaz.com.
More like this story
SUBMIT FEEDBACK
Click Below to: