Why are flags at half-staff today, Aug. 6, 2018
Originally Published: August 6, 2018 2:01 a.m.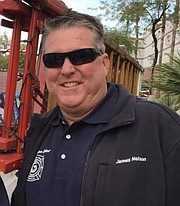 Governor Doug Ducey has ordered that State of Arizona flags at all state office buildings be lowered to half-staff from sunrise until sunset Monday, August 6, 2018, in honor of Gilbert Fire and Rescue Battalion Chief James Nelson.
Chief Nelson passed away on Wednesday after spending time in the ICU in critical condition.
On Wednesday, Gilbert Fire Fighters Local 2260 posted this message on Facebook:
"It is with a heavy heart we want to inform the community that Battalion Chief James Nelson passed away today. We ask for your continued support for the Nelson family and for the entire Gilbert Fire and Rescue family. Our hearts are broken as we lost a husband, a father, a firefighter, a friend, and a true servant within this community. Rest easy James, when the alarm sounds today we will respond with the same excellence in service you always commanded. We've got it from here brother."
On Thursday, Nelson's daughter attended her first day of school for the year at Campo Verde High School in Gilbert. Gilbert Fire and Rescue officials and police officers lined the street to escort her. She arrived at the campus in a fire truck and was met by two lines of uniformed officers and first responders.
A Celebration of Life ceremony for Chief Nelson is scheduled to take place at 10:30 a.m. on Monday, Aug. 6 at Mission Community Church, 4450 E. Elliot Road in Gilbert.
The family has asked that any donations be made on behalf of James Nelson to either the 100 Club or the Child's Crisis Center.
SUBMIT FEEDBACK
Click Below to:
More like this story