No child fell asleep on bus, few shed tears on first day of school
Photo Gallery
HUSD First Day Of School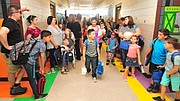 No crying, clinging children in Lynette Buskirk's kindergarten class were evident this year. In fact, most of her students sat at tiny desks labeled with their names busily coloring in a First Day of School picture before the first bell of the year rang Monday, Aug. 6, at Mountain View Elementary School in Prescott Valley.
One or two children appeared a little lost, but that didn't last long in Buskirk's classroom of 21 students.
"I have 21 now, but it will grow. Parents will be registering all week long," she said Monday morning.
She was pleased to meet parents of every student at the school's Open House on Aug. 2, and said the parental support in the lower grade levels is always nice to have.
Humboldt Unified School District Superintendent Dan Streeter said Monday was one of the smoothest first days he could remember.
"Things went well. Transportation did a tremendous job getting kids to and from school," Streeter said.
Kindergartners have early release all week "to build their stamina for full day," he said. The youngsters are able to ride the bus by themselves, and get to know their drivers and their routes, Streeter added.
Only one glitch occurred and that should be rectified by today. Glassford Hill Middle School lost the function of both cooling towers over the weekend, Streeter said. A company came up from Phoenix, and together with the district's maintenance crew, workers worked all Sunday night to get one back online, with about 75 percent of the campus cooled off for the start of school. Replacement parts and further repair should keep classrooms cool on Tuesday.
At Liberty Traditional School, administrators implemented a new process for student safety called Student Safety Tags. Every student has a tag that aligns with the way they go home in the afternoon, said Assistant Principal Kim Yates, whether by bus, bicycle, or parent.
"Teachers check to make sure students are where they are supposed to be. If picked up by car, the parents have a pass that matches the same number as the child's. This way we make sure student go to the right people and the right way they go home," she said, adding that even if staff know the families, they still check IDs and safety tags every single day.
Follow Sue Tone on Twitter @ToneNotes. Reach her at stone@prescottaz.com or 928-445-3333, ext. 2043.
More like this story
SUBMIT FEEDBACK
Click Below to:
This Week's Circulars
To view money-saving ads...