Seek then Speak: New sexual assault recovery, reporting resource available in Yavapai County
By
Max Efrein
|
mefrein
Originally Published: August 4, 2018 10:18 p.m.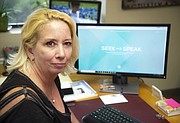 Survivors of sexual assault in Yavapai County now have a new resource to turn to for information, support and reporting.
Called Seek Then Speak, or seekthenspeak.org, the online portal puts people in the driver's seat to getting help for themselves or someone they know after sexual assault. Through the privacy of their computers or cellphones, victims can remain anonymous as long as they would like when using the resource, for they are in control of the information being shared, who it is shared with and what they want to happen with it.
"Through the technology, victims of sexual assault can find an explanation of what the heck just happened to them and what their options are," said Jerald Monahan, Yavapai College Police Department Chief and a law enforcement liaison for End Violence Against Women International.
End Violence Against Women International started building the resource a couple years ago and officially released it in January, Monahan said.
Integrated into Seek Then Speak is a platform known as Victim Link, which allows survivors of sexual assault to report to law enforcement and/or connect to victim advocacy services directly through the resource.
With the assistance of grant funding, there are currently nine agencies in Yavapai County subscribed to Victim Link. These include law enforcement agencies, college campuses and victim advocacy centers, such as the Prescott Police Department, Embry-Riddle Aeronautical University and Yavapai Family Advocacy Center.
HOW IT WORKS
When victims of sexual assault first access Seek Then Speak either through a computer or cellphone, they are guided through a questionnaire that helps them determine what information may pertain to their specific case.
This includes providing tangents to information about medical forensic exams used to collect evidence and document any injuries related to sexual abuse; information on Title IX, which defines certain rights afforded to college students; and options specifically available to members of the military or general workforce.
After educating the user about his or her rights as a victim of sexual assault, the program then asks if the user wishes to connect with a victim advocacy center or file a report with a nearby law enforcement agency.
If the user agrees to do either, they are guided through additional questions to accomplish those goals.

WHY SIGNIFICANT
Sexual assault is one of the most unreported crimes in the nation. According to the Rape, Abuse and Incest National Network, only about 30 percent of all rapes are reported. Other studies have found the percentage to be even lower.

Reasons for not reporting such assaults vary among individuals, but studies have identified the following as common:
• Self-blame or guilt.
• Shame, embarrassment, or desire to keep the assault a private matter.
• Humiliation or fear of the perpetrator or other individuals' perceptions.
• Fear of not being believed or of being accused of playing a role in the crime.
• Lack of trust in the criminal justice system.
Missy Sikora, director of the Yavapai Family Advocacy Center, firmly believes Seek Then Speak is exactly the sort of tool needed to help survivors of sexual assault better understand their rights as victims and feel more comfortable about seeking recovery support or taking legal action against their abusers.
"This program is so cool because everybody wants to do everything anonymously online these days," Sikora said. "This is just kind of meeting them where they're at, so they can access services in the same way."
The other participating agencies feel similarly, saying they hope the service removes any stigma associated with reporting sexual abuse.

"It is my hope this program can eliminate the distrust that some victims may have regarding the system I know can help them," Yavapai County Sheriff Scott Mascher said.
Aside from going to www.seekthenspeak.org, anyone wishing to use the resource may also call 1-888-865-9863, or download the mobile application.
More like this story
SUBMIT FEEDBACK
Click Below to: