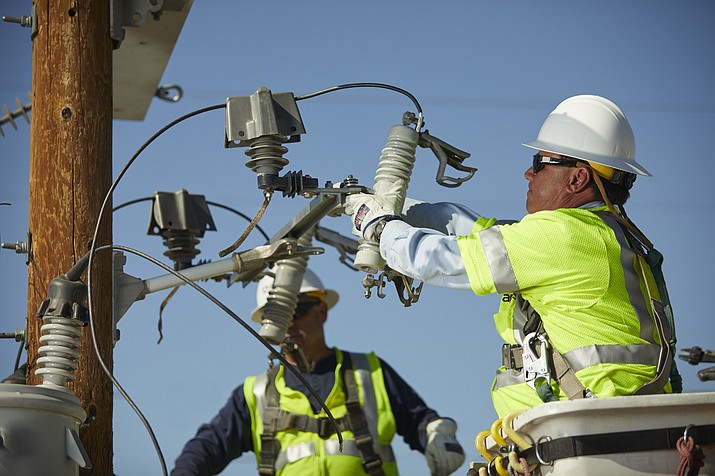 Originally Published: August 4, 2018 7:07 p.m.
"I am a lineman for the county And I drive the main road Searchin' in the sun for another overload"
"Wichita Lineman"
That song was a romantic ode to a lone worker on the open highway back in 1968, and things have changed considerably since then — a lineman, who may also be a woman, will likely work not for the county, but a power company, like Arizona Public Service Company (APS), or a private contractor.
And with the current generation of linemen in the U.S. reaching retirement age, there will be a need for more of them in the near-term.
They play a vital role, especially during monsoon season in Arizona, when weather causes damage to lines, severing customers' power, and APS's more than 350 journeyman linemen and 70 apprentices are called into action.
"It's been kind of like a secret club to get into linework. Most people just aren't aware of it or exposed to it," said Mackenzie Rodgers, Northwest Division manager for APS. "Unless you knew somebody … in the utility industry or you were exposed to it at some point, you just aren't familiar with the trade," which is why there are many second- and third-generation linemen.
APS Lineman Brian Alston grew up on the Verde River as the son of an APS employee. Alston first saw linemen in action when he was just 5 years old, and it made an unforgettable impression.
"I saw line crews using a helicopter to set a pole," he said. "I knew — even at that young age — that was what I wanted to do."
Alston's father, Elmer, a 25-year APS employee, was proud to see his son join the APS team. Based in Flagstaff, Brian frequently works in the Prescott area. He's has now been with APS 14 years and is known among friends and colleagues as "Biscuit," a nickname he earned on his first day as a pre-apprentice for his choice of breakfast sandwich.
Working closely together in the field, a bond forms between the members of a crew. "There's a lot of camaraderie within the crew," Rodgers said.
Between the "family" feel and the fact that it "pays very well," she added, "It's a really great way to make a living."
"Industrial athletes"
Linemen, who usually work in crews of between two and five, carry about 30 pounds of equipment when climbing poles to do repair work, Rodgers said.
"They're really industrial athletes, so it's important they stay fit, hydrate, and take care of themselves," she said. "They're out there digging holes, climbing poles, and working off of these poles on energized lines."
Rodgers said climbing the wooden power poles is physically demanding, with the linemen wearing spikes on their boots to gain purchase on the pole.
"In order to get into the program, we do a physical evaluation" of prospective linemen she said, and they have to maintain that fitness.
career pathway to the trade
For those interested in joining the ranks of linemen, Yavapai College offers a one-year Electric Utility Technology Certificate program at its Agribusiness & Science Technology Center in Chino Valley.
YC Associate Dean Karla Phillips called the program a "career pathway" to get people started in the trade.
"Our program is what we would call 'pre-apprentice,' and from pre-apprentice, if they're hired … it usually takes about a year before they go into the apprenticeship program, and then they're usually in apprenticeship for a couple of years before they go into the journeyman program," she said, which adds up to five to seven years of learning the trade.
There's a demand — and, Phillips said, good pay — for workers who have the skills.
"Right now, over 50 percent of the lineworkers in this nation are at retirement age," she said. "When they decide to pull the plug, there's going to be huge needs."
APS spokeswoman Annie Degraw said, "(The other day), when we were doing storm clean up, I was out with one of our foremen, who has worked for APS for 51 years."
She added that when they have announced openings, they have "lines around the block" of people wanting the job.
Heroes in safety yellow
"They really need to be a person who loves the outdoors, like adventures, maybe a little bit of an adrenaline rush," Philips said, "and you kind of get to be a little bit of a hero when you get the power back on."
Of course, the job frequently requires workers to do those tasks in less than ideal conditions, such as during a storm. The students get a taste of that, too, instructor Tom English said. "One of my favorite things out here as an instructor is, when the wind is blowing or it's raining, or, we even had snow last year, we go out into the field … and we work in it."
"Their jobs are really dangerous — they're working directly with at least 1,200 volts of electricity, often in the dark or storm conditions," Rodgers said.
"They're unsung heroes."