County redefines vehicle damage, accidents, incidents
Road hazards, weather, animals — not all damage needs repair
2017 Yavapai County numbers
523 vehicles
57 items with equipment
7.9 million miles driven
52 accidents
295 incidents
"All along, along, there were incidents and accidents," Paul Simon sings in his 1986 song, "You Can Call Me Al." Yavapai County has its share of incidents and accidents, and the difference is now better defined.
The Yavapai County Board of Supervisors looked at its vehicle damage guidelines, during the study session at its Aug. 1 regular meeting. Fleet Manager David Gartner replaced the old policy with new guidelines, outlining definitions and parameters for repair work.
The new document defines an "incident" as damage that occurs during normal use despite the driver's use of reasonable caution and care of the vehicle. An "accident" is when there is damage caused by striking or colliding with another vehicle, a stationary or moving object, an animal or pedestrian, and anything not classified as an incident. Any time a vehicle requires towing, it is considered an accident.
An example of an incident might be when a car passes in the opposite direction and kicks up a rock that cracks a windshield.
"We prefer to call this an incident because the driver was taking reasonable care of the vehicle," said Assistant County Administrator Jack Fields following the meeting. "If it's the fault of the employee, that's a performance issue we deal with."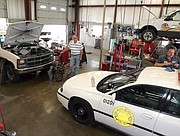 An accident, also open to disciplinary action, might be a driver going 60 miles per hour on a dirt road and rolling the vehicle. Bottoming out while driving 30 mph is an incident, he said.
Supervisor Craig Brown said he has had discussions with the Yavapai County Sheriff's Office about normal wear and tear as opposed to misuse of a vehicle. "This straightens it out pretty good," he said.
The new guidelines also offer better definitions on types of damage: cosmetic, safety-related, structural and any combination, as well as the extent of damage: minor, moderate or severe. As a guideline, not a policy, the fleet division has some discretion and flexibility with determining what repair work is needed within the new parameters.
"Every three years, fleet gets swapped out," Supervisor Jack Smith said. "We want to get top dollar at auction."
If minor damage does not significantly affect the safety, drivability or appearance of the vehicle, fleet management may choose to delay repair work. For instance, damage that is seen only when the vehicle is on a lift, or scratches that go through the clear coat but are unlikely to cause paint flaking.
The fleet director may order repair work if the damage adversely affects the resale value, however, or reflects negatively on the county's responsibility to maintain vehicles and equipment in serviceable condition.
The Yavapai County Sheriff's Office puts about 3 million miles a year on its vehicles, some of it over primitive rough roads, Sheriff Scott Mascher told the board. As an example, he cited a recent search-and-rescue situation that resulted in driving through brush along the Verde River.
"Vehicles for the Sheriff's Office are one of the most important tools we have. In my 30 years in the Sheriff's Office, I've never had as well-maintained and serviced vehicles as now," Mascher said.
All damage is noted, whether it is repaired or not, said David McAtee, public information officer. "We record it all because we don't want to address the same thing every time for the same vehicle."
With 1,700 county employees, Fields said, department heads trust their employees' driving ability unless they see something egregious. Recently, an employee was terminated because of an accident, he added.
Some employees, such as county attorneys with investigation, or foremen or road superintendents with public works, are able to take county vehicles home.
"You want them on the scene as fast as possible; same thing with deputies," Fields said.
Additionally, some supervisors with large districts drive county vehicles. Otherwise, the county reimburses employees doing county work for mileage at 44.5 cents per mile, a rate the state has established.
More like this story
SUBMIT FEEDBACK
Click Below to:
This Week's Circulars
To view money-saving ads...