Funeral today for Arizona state trooper, Navy veteran, killed in struggle
Originally Published: August 3, 2018 6:56 a.m.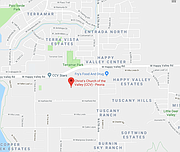 PEORIA — A Navy veteran and rookie Arizona state trooper who was fatally shot in a struggle with a suspect along a highway will be remembered today at a funeral service in Peoria.
The 10 a.m. service will be held at Christ's Church of the Valley, 7007 W. Happy Valley Road.
Tyler Edenhofer was one of several officers who responded July 25 to reports of a person throwing objects at cars on Interstate 10 in Avondale near Phoenix. Authorities say a confrontation ensued when officers tried to get Isaac King off the roadway to detain him.
King, 20, is suspected of grabbing another trooper's weapon and firing two rounds. One hit Edenhofer, 24, who died at a hospital. A second trooper was shot in the shoulder and wounded, but has since left the hospital.
Department of Public Safety director Col. Frank Milstead said Edenhofer had graduated from the agency's academy in May and was engaged to be married. He was in his last week of field training when he was killed.
King, who has no criminal record and a history of mental illness, was also injured.
He was hospitalized with undisclosed injuries, but is now in a Phoenix jail. He is facing multiple charges including first-degree murder. It was not immediately known if he has an attorney.
SUBMIT FEEDBACK
Click Below to:
More like this story