'Excitement in the air' on first day of school
PUSD first day of school goes off without a hitch; three new principals and two assistants in the mix

By
Nanci Hutson
|
HutsonNanci
Originally Published: August 2, 2018 9:56 p.m.
Photo Gallery
PUSD First Day Of School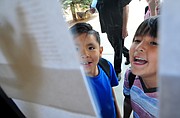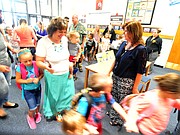 At 7:30 a.m. on Thursday, with the first period bell still a half hour away, Prescott High School was abuzz.
New freshmen were a combination of smiles and grimaces while upperclassmen were hugging and high fiving friends, or visiting with former teachers, even as they directed the lost or wary newbies.
"The excitement in the air is phenomenal. You feel it; but you can also feel the nerves," declared bookstore manager Bonnie North, who arrived at 6:30 a.m. ready for an onslaught of students who waited until the last minute to pick up their books.
Outside in the courtyard some parents voiced mixed emotions — glad their children are getting prepared for the world beyond Prescott but sad summer is over and their sons and daughters are just that much closer to departing the nest.
"We bleed blue and gold," said Jessica Roberts who has two sons, Cody and Kade Roberts, now enrolled and two former graduates, Jacob Roberts and Paul Hendricks, in college at Grand Canyon University. "I'm very pro-education; the socialization and getting educated is so important. But I also have a lot of anxiety with the times … it's kind of bittersweet."
Mother of freshman Rocco Grecco, Jennifer, said she is excited for her only child who will be playing flute in the marching band. She, too, recognized the first day of anything new brings forth both anticipation and trepidation.
Asked how he was feeling, Rocco simply said, "Interesting," as he collected his backpack and other school supplies before heading inside the bustling campus.
In the middle of the Badger Common hubbub — the main lobby — District Superintendent Joe Howard kept up a steady flow of uplifting conversation with students, parents and staff; at one point he asked a gang of boys to temper their boisterous enthusiasm. In the course of the first two days of school, Howard said he will visit every classroom in the district's six K-12 schools and in the Discovery Gardens preschool below his office at Washington School.
One of the students who greeted Howard was Chaz Schott, a sophomore, who said he is happy to be back at school with "all his buddies." He said he expects his favorite course this year will be automobile mechanics.
Freshman Ava Andrews admitted she was a bit "scared," yet still was all smiles as she and a friend headed off to their latest educational adventure.
New administrators
One veteran Badger spotted roaming the halls with a big smile, and words of encouragement to all he encountered, was Prescott High's new Principal Mark Goligoski.
Goligoski and his assistant principal Clark Tenney, also a Badger graduate, were part of an administrative realignment last spring. Goligoski, a prior high school teacher and athletic director, was moved from his three-year position as principal at Mile High and Tenney, also a former high school teacher, moved from his former post as principal at Abia Judd Elementary. Former high school Principal Stephanie Hillig is now the Abia Judd Elementary principal, and assistant high school Principal Amy Buettner was moved to Mile High as their assistant principal. Mile High's new principal is Andy Binder, who prior to his appointment served the school as both a social studies teacher and assistant principal.
The air of energy, be it from nervous freshmen or savvy seniors, stirred Goligoski's memories.
"It's hard to believe that 30 years ago I was in their shoes," Goligoski said. "We had 300 new freshmen at orientation, excited and nervous, and I remember that. Never did I think that one day, 30 years later, I'd be principal.
"What an honor!"
ABIA JUDD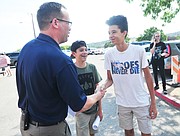 Fourth-grade parent Arlene Hardy admitted the first day might have been "perfect" for her daughter, Celia, but she was going to be suffering some "withdrawals."
With two older children in college, Hardy said she is grateful she "still has one to take to school."
Inside the front corridor, a couple of mothers were selling T-shirts to benefit the school's Parent-Teacher Association. One of them, Marta Bair, said her first-grade son, Stellen, was not a bit nervous for his first day. She said he was clear that "he's got this."
More parents appeared to be shedding tears Thursday morning than children.
New Principal Stephanie Hillig, a 13-year district veteran, is also already winning rave reviews.
"She's wonderful," Bair said.
Once classes started at 8:25 a.m., Hillig visited classrooms to make initial introductions. She kicked off the day with some opening announcements, including the Abia Judd pledge that "all children are capable of success — no exceptions."
Hillig's assessment of the first morning: "Piece of cake — it was awesome."
FIRST DAY REVIEW
"There's a great vibe," Howard said.
Though this is his 15th year in the district, his third as superintendent, Howard said he never ceases to be awed by all the work that goes into assuring a smooth start to the new school year.
"It takes all of us — 4,000 students and some 500 faculty and staff — working together to make it happen," he said. "Every time I see it happen, I'm blown away."
More like this story
SUBMIT FEEDBACK
Click Below to:
This Week's Circulars
To view money-saving ads...