State of the region's economy: Positive trends, optimistic outlook – but we need more labor
Originally Published: April 29, 2018 6:05 a.m.
Ten years after the start of the Great Recession in the U.S., the western Yavapai County economy is now looking solid, said Teri Drew, the regional director of the Northern Arizona Council of Governments' (NACOG) Economic Workforce Division.
"In terms of the Recession, Yavapai County is doing remarkably well," Drew said.
Demand from employers looking for help is high at the NACOG office, and "that demand ... has increased, I would say, more than 40 percent," she said.
The industries showing the most regional growth are manufacturing, followed by health care.
One category that, perhaps surprisingly, does not appear on Drew's radar is construction.
"I hear them crying out a lot (for labor), but in terms of jobs that are open and available, we're just not seeing that," she said.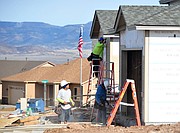 One company she pointed out in the manufacturing sector, as "one of the fastest-growing new-job companies in the county," is RESA Footwear in Prescott. RESA makes 3-D printed custom orthotics.
"They've been in operation less than a year, and their goal is to hire 100 or more individuals," she said.
Drew said RESA has a need for skilled labor, but "they understand we just don't have that labor force here," so the company has already begun to work with Yavapai College to "develop the skills training programs" necessary.
RESA is willing to pay for that skilled labor, she said, averaging $25 an hour, significantly higher than the county's average manufacturing wage, which is $12 to $15 an hour.
Prescott's Economic Development Coordinator, Wendy Bridges, said educating potential workers will be important for attracting business.

"Interest in high tech and cyber security education and operations has never been higher," she said. "With both Embry-Riddle and Yavapai College adding to their course offerings in this area, we hope to attract satellite operations of existing tech and cyber security companies."
Prescott Valley's Economic Development Coordinator, Ben Hooper, agreed that "the biggest trend in employment right now is a lack of labor, especially skilled labor." He added that this supply-and-demand situation is creating "an 'employee's market,' meaning that employees are able to switch jobs as they find employment with better pay and benefits. Employers will need to reinvest in their employees in the former of higher wages and greater benefits in order to remain competitive and retain their talent."
Drew said the county has a 4 percent unemployment rate, "which is really full employment."
She's hoping that a NACOG job fair to be held in Phoenix in May will draw people who would be willing to move to Yavapai County to fill at least some of the need.
Affordable housing is a stumbling block, as Drew said, noting that homes in Maricopa County are less expensive.
Asked how new home construction would affect those costs, Bridges said, "With thousands of units in the planning or development stage, Prescott will see increased inventory in single- and multi-family housing. We cannot predict what this will do the housing market."
While good pay may draw people to move north, there are other reasons they might want to stay. "I would say one of the best benefits we offer for those seeking employment here is a great quality of life," Hooper said. "There is no shortage of open space and areas to enjoy and recreate around this region."
More like this story
SUBMIT FEEDBACK
Click Below to:
This Week's Circulars
To view money-saving ads...