Self-made volunteer: Seeing a need in the lives of teens to build their self-esteem through the Teen Closet
Originally Published: April 29, 2018 6:01 a.m.
Being a teenager is hard enough without having to worry about the difficult circumstances associated with poverty and low household income. But things have become a lot easier, and more fun, for those teens in the quad-city area thank to our local angel, Krystal Koons.
Krystal grew up in Phoenix, but once she had a family, she knew she wanted someplace quiet and friendly to bring her family, which led her to Prescott. Her family loved the beautiful scenery and the small-town charm of the Prescott area and fell in love with it right away.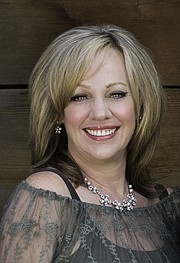 Her passion has always been in helping others, and she started volunteering at the age of 19 with the Children's Crisis Nursery, in Phoenix. Even though she was only doing it two nights a week, she absolutely loved it, and wanted more.
She then incorporated the love of her family with her love of volunteer work and became the President of the PTA, both in their schools in Phoenix, and then later here in Prescott. Shortly after moving to the area, her family joined the American Lutheran Church (ALC). She claims that the ALC gave her many opportunities in the way of community outreach and involvement, but that she noticed there was nothing set aside specifically for teenagers. This was when she came up with the idea for the "Teens' Closet."
After announcing her idea to the community, she was able to acquire the clothes she needed to open up the program in 2011. It went so well that after a few years the ALC offered her a 650-square-foot home on White Spar Road to help the program grow.
Here she explains her inspiration in starting the program, "One day as I was cleaning out our closets, I felt that God was inspiring me to get those clothes into the hands of teens that really needed them."
So, what is the Teen's Closet?
The Teens' Closet is a nonprofit local volunteer organization that is dedicated to clothing teens in need. Every other month, the Closet is open for teens to come in and choose up to 10 new clothing items. The Closet does its best to stay up to date on the teens' needs and styles, so that they feel confident and happy with their looks, so they can face the world with one less thing to worry about. The teens hear about the program through word of mouth, or by outreach to their parents/guardians to help them choose clothes for them.
And the program doesn't stop there. Every September they host a huge event called the "Spaghetti Dressetti Fundraising Luncheon." This includes food, a bake sale, a silent auction, and even a teen fashion show. They also take this event as an opportunity to thank their many volunteers.
Krystal's love of volunteer work spreads outside the realm of her own program. She has also spent the last 12 years working with a group called North Star. She is currently their Health Education Coordinator and the Priceless Prom Coordinator. North Star is also dedicated to helping teens, but instead of helping in the way of providing physical items, they are focused more toward teen education. North Star services include health education, pregnancy prevention, and decision-making classes. They do provide some items to teens as well, which is where her part as the Priceless Prom Coordinator comes in. Priceless Prom allows for donations of new and used tuxedos and dresses so that teens who can't afford to buy or rent these things, can still have a fun prom experience.
Krystal's goals for the future include filling the closet with all new clothes, not just used ones, as well as getting a bigger space to allow more room so that she can combine the Teens' Closet with the Mom's Closet — another one of her nonprofits, which was started in 2012.
For those who want to help Krystal with these wonderful works, she encourages donations of money or gift cards to places like Walmart and Ross, which helps them stock clothes for the teens. You can also look into donating for next years' Priceless Prom, which will start again in January 2019.
For more information, call Teen's Closet at 928-379-1667. For details on the North Star Youth Partnership, visit northstaryouth.com.
More like this story
SUBMIT FEEDBACK
Click Below to:
This Week's Circulars
To view money-saving ads...