Firefighter proposes to girlfriend during ceremony
Two promoted, two retired, six graduated from firefighter academy

By
Max Efrein
|
mefrein
Originally Published: April 29, 2018 5:54 a.m.
It was all part of a plan.
Jaron Kirk was set to be promoted to captain during a Central Arizona Fire and Medical Authority (CAFMA) recognition ceremony Thursday evening, April 26.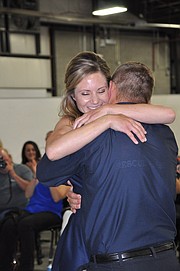 He had asked his girlfriend, Carli Gibson, to pin his new badge on his shirt during the ceremony. What she didn't know, however, is that he would propose to her immediately after the pinning in front of everyone else at the ceremony.
Central Arizona Fire and Medical Authority Chief Scott Freitag was in on the surprise.
"I swore [Kirk] in, she pinned him, and then I positioned myself between him and her," Freitag said.
Freitag then got Gibson to turn away from Kirk.

"I said to Carli 'raise your right hand,'" Freitag recalls. "'This is a new tradition that we're starting here, swearing you in'. And then I said, 'Oh, never mind, we'll have Jaron do it.'"
When she turned around to face Kirk, he was on one knee with a ring in his hand.
Fortunately for Kirk, she said yes.
OTHERS HONORED
In addition to Kirk's promotion were a number of other recognitions. Two retirees were honored, one other man was promoted and six men were celebrated for their graduation from CAFMA's firefighter academy.
Those retired were captain Armando Valadez and firefighter Sam Ramirez.
The other promotion was given to Adam Wagner, who is now an CAFMA engineer.
Five of those who graduated — Justin Vanatta, Jake Thompson, Nate Hallowell, Tim Tillich and Ethan Hutchison — were new hires and will be joining the full-time firefighting ranks for CAFMA. Jim Gillihan, CAFMA's Training Academy Technician, also completed the six-week academy. 
More like this story
SUBMIT FEEDBACK
Click Below to: