Email reveals potential buyer for Navajo coal-fired power plant
Originally Published: April 29, 2018 5:55 a.m.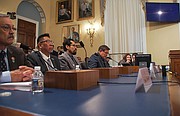 FLAGSTAFF, Ariz. (AP) — The potential investors of a coal-fired power plant in northern Arizona have been identified as a New York-based firm that focuses on distressed companies and one of its subsidiaries in the utility business.
The Navajo Generating Station near Page is set to close in December 2019 unless a new owner is found, costing hundreds of good-paying jobs on the Navajo and Hopi reservations.
The investment banking firm Lazard Freres has been leading the search for a new buyer after being hired by the plant's sole coal supplier, Peabody Energy, Inc.
The potential buyers were identified publicly for the first time this past week as Avenue Capital Group and Deerfield, Illinois-based Middle River Power. The information came in emails between a Lazard representative and the general manager of the Central Arizona Project, who were trying to set up a meeting.
The emails were shared by the Institute for Energy Economics and Financial Analysis, a nonprofit group.
Lazard has said prolonging the life of the plant would hinge on the willingness of current owners and the CAP to buy power after 2019, a long-term lease, a coal supply agreement and spending less to operate the plant.
Gov. Doug Ducey signed legislation this past week exempting coal used at the Navajo Generating Station from the state's sales tax to make it more attractive.
More like this story
SUBMIT FEEDBACK
Click Below to:
This Week's Circulars
To view money-saving ads...