Cates celebrate 50th wedding anniversary
Originally Published: April 29, 2018 6:01 a.m.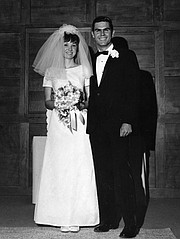 Phillip Murray and Linda Cates celebrated their 50th wedding anniversary on April 13.
They were married in the Church of Christ in Prescott, Arizona. Both attended Prescott High School, where they were high school sweethearts, and their families have been longtime residents of Prescott, since the 1950s.
Murray and Linda lived for 26 years in the San Diego area, and upon his retirement from the Police Department there, have been back home in Prescott since 1995.
Murray worked, also, as Chief Investigator for the Yavapai-Prescott Indian Tribe for 15 years.
They celebrated their anniversary with their daughter Robyn and husband Brian, and two children, in California. Their son Glenn, and his wife Nilda, with their three children, reside in North Carolina. Linda and Murray stay busy taking road trips across the country, with the Rocky Mountain states as their favorite, enjoying retirement, friends and family.
More like this story
SUBMIT FEEDBACK
Click Below to: