Prescott schools use hybrid 2-hour delay to support #RedForEd movement
Walkout inspires charter school kindergartener to donate his 'give jar' to cause

By
Nanci Hutson
|
HutsonNanci
Originally Published: April 27, 2018 6:05 a.m.
After painting poetry covers in pudding, Abia Judd Elementary third-graders in Catie Schnitzius' late-start class on Thursday were at their desks outlining words for a three-line poems about animals in the world.
In the library of one of Prescott Unified School District's three elementary schools, a line of second-graders had their arms filled with books to take home to read. A handful of parents waited in the lobby for their sons and daughters to complete a screening for kindergarten next fall.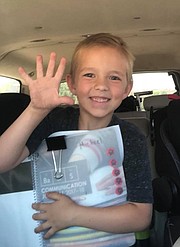 Across town at Prescott High School, between bells, the hallways were bustling with students heading off for a shortened day of end-of-the-year class projects; a few finishing up their AZ Merit tests. Principal Stephanie Hillig took the helm for two classes — the one unfilled position on Thursday — and was happy to report perfect attendance.
On a day many schools, and some area districts, are staging walkouts, Prescott Unified opted for what proved a hard-fought compromise — a two-hour morning delay on Thursday and an early afternoon release on Friday. Monday is a professional development, no student day. Absences of teachers and students was higher than usual, but with the help of administrators, substitutes and teachers willing to remain in their classrooms, the district avoided the possibility of adding days onto the school year — as long as the strike call ends before next week.
At the downtown courthouse plaza before the abbreviated school day started, the red-shirt wearing Schnitzius was among hundreds of Prescott educators, parents, students, and pets urging state lawmakers to do what's right for students. Not only do teachers want higher salaries — Arizona's median teacher salary of just over $44,000 is the second lowest in the nation — but they want lost funding returned so that students have state-of-the-art technology, curriculum and programs needed to prepare them to function in a global world.
Prescott High Dean and Athletic Director Missy Townsend, arriving with her five children, said she was "blown away" by not only the educational community but with all the others in the community rallying for their cause.
"It makes you feel validated – especially out here in rural Arizona," Townsend said.
TORN OVER THE WALKOUT
In her classroom, Schnitzius' flipped through her class' Social Studies book. When it was printed, the president of the United States was Democrat Bill Clinton.
As she worked with her students on their poetry, Schnitzius' said she is 100 percent behind Arizona Educators United #RedForEd movement and the momentum it has created for a change in where education is on the state priority list.
"We've been at a standstill for years," she said.
She admits she was torn over the walkout effort. As much as she believes in the need for across-the-board increases in educational funding for students and pay for those in the profession, Schnitzius said she felt compelled to be in the classroom offering instruction to students who depend on her every day.
Abia Judd Librarian Maureen Festi said PUSD's collaborative plan to keep schools open is one she endorses, but at the same time she is clear that Arizonans need to value this profession far more than it does. A retired classroom teacher from Connecticut, Festi said she watched that state wrestle to elevate education, and it's a struggle that made inroads but is still not over. In Connecticut, unlike Arizona, though, there is a strong union presence that has exerted substantial influence when it comes to education funding and salaries. She said she admires those behind this grassroots coalition who are striving to garner more respect and money for this profession.
"Everyone has to pull together to recognize teachers for the very important work that they do," Festi said.
BASIS Prescott parent Adam Doyle said he understands educators' need to make a splash — no doubt Arizona needs to offer salaries to attract those able to ensure academic excellence — but was not certain walking out on students sends the right message. BASIS Prescott opted Tuesday night for a walkout Thursday with classes to resume Friday.
If the limited strike accomplishes the #RedForEd goals, then "I'm all for it," Doyle said. If it shortchanges, or hurts, students, "then I think there was a better way to go about it."
Prescott High School Math Department Chairman and varsity basketball coach Adam Neely said he has high hopes this movement makes a difference because the reason people choose education as a profession is "because we love kids."
"I think there is a lot that can be taken from this that is positive," Neely said.
BASIS kindergartener Michael Ransdell might need to have a chat with lawmakers — he has a solution.
When his mother, Kristen, explained his school would be closed for a day, and why, Michael showed an affection for his teachers that is likely shared by many children across the Tri-City region.
"What if I got my 'give jar" money and give it to (his teachers)?" Michael asked. "They work so hard."
---
---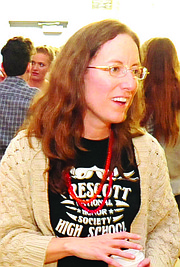 LETTER FROM A TEACHER
My name is Courtney Check, I am Yavapai County's High School Teacher of the Year, and I am leaving Arizona.
I want to share my story in order to encourage you to consider re-funding Arizona education; current funding levels are causing an incredible brain-drain in this state. I am the English department chair and multiple-award winning teacher. I love this district; I was, at one point, prepared to work my entire career at Prescott High School. That all changed when we began this school year and English department members had an average of over 32 students in each of their classes: two senior teachers began the year with over 45 students in their classes, and those numbers remained the same after school had been in session for three weeks. Students were sitting on the floor because we did not have enough desks for them.
I am leaving because I am frustrated by the lack of support Arizona teachers receive. I have 165 students on my roster this year: I grade 825 paragraphs everytime I assign an essay; I try to give timely and specific feedback to all of my students, but I have been failing at doing so, and it breaks my heart. I teach honors students; students who will someday solve the biggest problems that the United States faces today. Until Arizona properly funds education, however, these students lose. We do not have enough teachers and the teachers we do have are overwhelmed, and everyone loses. The state faces brain-drain when good teachers leave and good students languish. I speak to you today as an advocate, not for teacher pay, but for funding for students.
My students are losing me. I am losing them. And it breaks my heart. If you want to keep next year's award winning teachers in Arizona, please work to create more funding for Arizona education.
-- Courtney Check
More like this story
SUBMIT FEEDBACK
Click Below to:
This Week's Circulars
To view money-saving ads...