Music, brews accompany races at Whiskey Off-Road
Originally Published: April 27, 2018 5:57 a.m.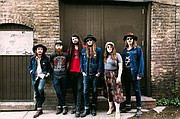 This weekend is the annual Whiskey Off-Road, and, as always, it's accompanied by live music and a beer garden.
This year, the layout for the entertainment will be like it was more than three years ago, according Todd Sadow, president of Epic Rides, which manage the annual event.
"The stage is on Goodwin Street and faces the southern portion of (courthouse plaza)," Sadow said. "The reason we ever changed it was to unify the start-finish line. That ended up being on Goodwin, where the stage is now."
Entertainment schedule
Saturday's schedule for the Four Peaks Brewing Company Concert Series:
11 a.m. - Sugar & the Mint
12:30 p.m. - The Cross-Eyed Possum
2 p.m. - Vacation Day
5 p.m. - Banditos
7 p.m. - Whiskey Shivers
Previously, the race course had exited to the east out of downtown and continued along Senator Highway, but that wasn't the best route for the event, Sadow said.
But the course isn't going to the east anymore; instead, it will go to the west, like it originally did, allowing the start-finish line to be on Whiskey Row once again, with the stage back on Goodwin Street, Sadow said.
"We're centered on the courthouse square, so it's a more natural environment for the beer garden," he said. "The event is purely focused around the Whiskey Row and Goodwin intersection. Everything is in that four corners for the weekend."

The music is sponsored by Four Peaks Brewing Company, and Four Peaks will be on tap at the beer garden, Sadow said.
The music starts at 11 a.m. Saturday with a local band, Sugar & the Mint, followed by The Cross-Eyed Possum and Vacation Day, he said. At 5 p.m., the Banditos will perform, following the band's Friday performance at the Stagecoach Festival in Southern California and before its scheduled performance at Stagecoach on Saturday night.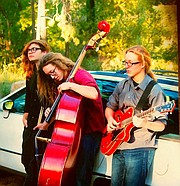 "They're playing a pretty high profile, arguably one of the highest profile festivals in the country," Sadow said. "They're out of Nashville and are touring."
The Washington Post, reviewing The Banditos, writes, "Corey Parsons and Jeffrey Salter start picking at their guitars like they're dialing up Waylon Jennings. (Mary Beth) Richardson responds with a howl, as if she's crash-landing some Southern-fried Jefferson Airplane. And it's on."
Saturday's headlining band, scheduled to perform at 7 p.m., is Whiskey Shivers, a touring band from Austin, Texas, Sadow said, noting that the band's name is ideal for the location, Whiskey Row, and the event, Whiskey Off-Road.
The hope is that even those who aren't into mountain biking will head downtown, anyway, to enjoy good beer and music, Sadow said.
"The idea is that even if you're not a mountain biker, you can come enjoy downtown Prescott, mingle with a bunch of out of town guests and have a good time," he said. "If mountain biking isn't your thing, then hopefully music is."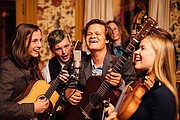 The Whiskey Off-Road is Friday-Sunday, April 27-29, with all music happening Saturday. It's free, but attendees are required to bring at least two canned goods for donation to the Yavapai Food Bank.
The Four Peaks Brewing Company Beer Garden opens at 2 p.m. Friday on Cortez Street and at 10 a.m. Saturday and Sunday on Goodwin Street.
By Jason Wheeler, follow him on Twitter @PrescottWheels, reach him at 928-445-3333 ext. 2037.
More like this story
SUBMIT FEEDBACK
Click Below to:
This Week's Circulars
To view money-saving ads...