Eagles tribute band – The Boys of Summer – plays in PV

Originally Published: April 27, 2018 6:01 a.m.
The Boys of Summer, nationally-touring Eagles tribute group, is performing in Prescott Valley for the first time Friday.
Drummer Jimmy Williamson said he lived in Prescott for a few months and was always hoping to put on a show in the area. The band has a date in Phoenix over the weekend and he was just looking for a connecting date, Williamson said. They'll be playing at Sidekicks Saloon, 6851 E. St at 9 p.m. Friday, April 27. There is a $5 cover.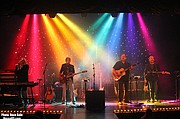 When the band formed in 2004, they came straight out of the gate as a Don Henley tribute due to band member Darrel Monson being a real strong Henley, Williamson said. Not a whole lot of other tributes to The Eagles can say that, he said. Eventually, they turned it over to a full-on Eagles tribute band, Williamson said.
"We've always been huge Eagles fans since we were kids in the early 70s," he said. "We're just a few years younger than them, not by much, but when they hit the scene, it was everything that we really liked about music: the intricate guitar workings, the great harmony and vocals, the songwriting of Glenn Frey and Don Henley, just all the magic that happened with those guys."
It's all about The Eagles and having the utmost respect for all the band's members and their songwriting, Williamson said. They're stone cold and true to form with nearly all their songs, though there's a couple that they take liberties with, he said.
Some of his favorite songs to play include "Hotel California," which is magical with the double-necked guitar, a medley of "Best of My Love" and "Take It to the Limit" and "Life in the Fast Lane," Williamson said. He'll always love playing "The Last Resort" too, he said.
"Not a lot of these other Eagles tributes will do these songs," Williamson said. "It's a ballad but Darrel sings the living snot out of this thing and it's always an honor to just play with the heart and feel that the song is about."
For more information about The Boys of Summer, visit www.boysofsummertribute.com.
By Jason Wheeler, follow him on Twitter @PrescottWheels, reach him at 928-445-3333 ext. 2037.
More like this story
SUBMIT FEEDBACK
Click Below to: