Editorial: Justice has come a long way
Originally Published: April 26, 2018 6:05 a.m.
Many of Joseph James DeAngelo's longtime neighbors in the Sacramento County, California, neighborhood where he lived said they were accustomed to the old man's loud fits of rage over the small irritants of daily life, like his misplaced car keys.
But it wasn't DeAngelo's frequent temper tantrums — which surely suggested an unbalanced personality — that led to his arrest this week in connection with a string of brutal, decades-old crimes in California.
Instead, the charges brought against the 72-year-old were the result of science.
In reporting on DeAngelo's arrest, The Associated Press quoted Sacramento County Sheriff Scott Jones, saying, "This was truly a convergence of emerging technology and dogged determination by detectives."
Although Jones did not say where or how law enforcement found what they referred to as DeAngelo's "discarded DNA," they made plain, anyhow, that DNA evidence connected him to a dozen unsolved murders and 45 rapes in California from 1976 to 1986, providing probable cause for his arrest.
While DNA science, like a lot of science, is not perfect, it has, nonetheless, proved numerous times over the past 30 years — since it first became available as a tool of the American justice system — to better focus the justice that is meted out in the best means that Western civilization has to determine guilt and innocence in "this mortal coil" (as Shakespeare, in his play "Hamlet," described the troubles of this life).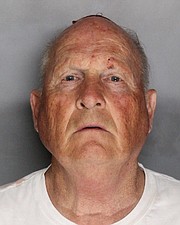 Considering that DNA evidence led this week to the arrest of a man who had long escaped justice, this occasion seems like a good time to celebrate the role DNA analysis has also played in the exoneration of many men who were wrongly convicted or rape. Such men — including Gary Dotson, convicted in 1979 although he plead innocent — had typically served considerable prison sentences before DNA evidence overturned their convictions.
In an imperfect world, filled with imperfect people who, like all of us, can see only "through a glass darkly" — to quote the imprisoned Apostle Paul in his timeless letter to the young church in Corinth — even the elaborate machinations of an American trial can miss the mark of justice.
Such an outcome is so common — and so lamentable, at the very least — it is the subject of one of the best loved works of American literature, "To Kill a Mockingbird."
The novel by the late Harper Lee became a play and a movie, too, all about how the lauded American justice system, even with the services of a seemingly heroic lawyer — who makes an epic speech about this presumably great justice system — completely failed a man falsely accused of rape.
In the real-life case of Dotson, who was the first person exonerated by DNA evidence — on Aug. 14, 1989 — he had, by that time, spent at least a half dozen years in prison, and his exoneration came years after his accuser, following what she said was her born-again conversion to Christianity, recounted her testimony against him and admitted to her consensual sexual encounter with a different man. Following her recantation, Dotson's lawyer at that time urged for Dotson's conviction to be overturned, saying, "Think about the destruction of this man's life, the torture of a man being wrongfully accused and being sent to a penitentiary for part of his life," according to an AP report from Chicago in 1985.
Even so, however, a judge and the then-governor of Illinois considered the woman's recantation less convincing than her initial sworn testimony.
But Dotson was paroled, anyway, due to his good behavior during his incarceration. Then a barroom brawl, in which he became involved, and a domestic dispute with his wife became reasons to revoke his parole.
In 1988, however, Dotson got a new attorney who used the then-new science of RFLP analysis, until then most often used in studying inherited diseases. This science was not available when Dotson was initially tried.
While Dotson may not have been a perfect man, DNA evidence showed he was no rapist. He was granted a new trial, but, by then, the Cook County, Illinois, prosecutor felt he had insufficient evidence to prosecute Dotson.
Since then, exonerations based on DNA evidence have followed in 37 states, and 20 of the 356 who have been exonerated due to DNA evidence served time on death row, according to statistics collected by The Innocence Project. Their research also shows that 14 is the average number of years that those who are falsely accused have spent behind bars before their wrongful conviction was overturned by DNA evidence.
With DeAngelo's arrest this week, one of his rape victims, from 1976, described her relief, telling the AP, "It's just so nice to have closure and to know that he's in jail."
We can all be grateful for the traditions — and the sciences — that allow the American justice system to approach, in fact, that ideal of justice upon which so much depends so heavily.
More like this story
SUBMIT FEEDBACK
Click Below to: