Firefighters prepare for fire season
Basin Operation Drill provides opportunity for local agencies to practice together

By
Max Efrein
|
mefrein
Originally Published: April 23, 2018 6:06 a.m.
One volunteer firefighter from Walker Fire Department measures the current weather conditions. Another firefighter with the Prescott National Forest calls in a fire containment status report. Several firefighters from other Yavapai County-based fire agencies work quickly to cut a fire line. Even more monitor the health of a fellow firefighter, who is experiencing a medical emergency during an active wildfire incident.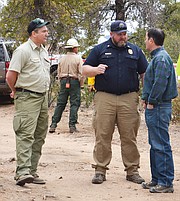 All of these were scenarios participants of the annual Basin Operation Drill went through to fine-tune their skills and build stronger relationships with the multiple agencies that would potentially respond to a large-scale wildfire in Yavapai County this fire season.
"You train like you play," said Cheyenne Warner, the lead fire prevention technician for the Prescott National Forest.
"We train with all of these agencies because we respond to incidents with all of these agencies. It also gives us the opportunity to meet new people, make that face-to-face connection with those people."
The training takes place every year somewhere within the greater Prescott area over a span of two days in April. This year the chosen location was near the Powell Springs Campground south of Cherry, a small community between Prescott Valley and Camp Verde.
Depending on the weather conditions each year, the agencies try to include a live burn for the participants to practice with. This year, that wasn't an option on the first day of drills.
"We didn't want to push it," said Todd Willard, a Verde Valley Fire District ranger. "We're at like 50 percent of our typical moisture for this time of year and the RH (relative humidity) is down to about 15 percent today."
While live burns certainly enhance the value of the training, Willard said the Basin Operation Drill is more about working out any communication kinks.
"The bigger picture is getting all of these non-Forest Service engines here and dispatched appropriately so everyone knows they're here, because there are several different dispatch centers involved," he said.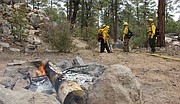 On the second day of drills, however, two small live burns were approved, and were even observed by Gov. Doug Ducey, Arizona State Forestry Division Director Jeff Whitney and Yavapai County Board Supervisors Thomas Thurman and Jack Smith.
"[Ducey] flew into the airport, drove out there, we briefed him on what's going on and how everybody works together, and he got to see the firefighters do mop up," said Debbie Maneely, public information officer for the Prescott National Forest.
WILDFIRES TO BE CONCERNED ABOUT
Already this season, there have been a couple of multiple-agency responses to area wildfires.
One even occurred on Wednesday, April 18, in Prescott Valley, just a day before the Basin Operation Drill began.
Both the Central Arizona Fire and Medical Authority and the Prescott Fire Department had to put out a grassland fire at the base of an apartment complex that sits on Glassford Hill. Fortunate circumstances made it so the fire was put out quickly with no damage to any structures.
Pete Gordon, Fuels, Fire, & Aviation staff officer for the Prescott National Forest, said wildfires within a certain distance of major communities aren't necessarily the ones he's really concerned about.
Such flare ups can typically be handled relatively quickly because there are shorter response times and the areas have been regularly treated — meaning they've been thinned of vegetation using removal strategies and prescribed burns.
"On our worst day, I'm more worried about a fire 8 miles outside of Prescott than one that's within 2 miles of Prescott, and it's because of the treatment," Gordon said.
The fires that start farther out from treated areas are the ones that tend to grow quickly and burn fiercely.
"They're going to come fast and hard," he said.
Knowing this, the Prescott National Forest has been working on thinning areas deeper within its territory.
Some of the focus areas he indicated are in and around Crown King, the Blue Hills area adjacent Dewey-Humboldt, and quite a few areas south of Prescott.
Follow Max Efrein on Twitter @mefrein, email him at mefrein@prescottaz.com or call him at 928-445-3333 ext. 1105.
More like this story
SUBMIT FEEDBACK
Click Below to: