2 men killed in Lake Havasu boat crash; woman critically hurt
Originally Published: April 23, 2018 5:58 a.m.
LAKE HAVASU CITY — Authorities say two men are dead and a woman critically injured in a boat crash on Lake Havasu near the Arizona-California border.
Mohave County Sheriff's investigators say the large boat was traveling at high speeds before crashing Saturday in the lake's south basin and then sinking.
They say the two men have been identified as 57-year-old Brad Kloepfer and 69-year-old Paul Selberg.
The injured woman is 58-year-old Connie Davis Kloepfer. Her relationship to the men on the boat wasn't immediately clear.
All three are from Lake Havasu City.
Sheriff's officials say they received reports around 12:30 p.m. of a boat crashing near the Contact Point Water Safety Center.
Several people driving boats near the scene pulled the victims out of the water. They were given CPR before taken to hospitals.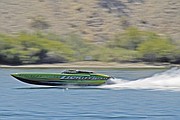 Additional information from Today's News Herald
2 killed after Desert Storm Shootout boating event
A boating accident that killed two passengers and put another in "extremely critical" condition was reported at Contact Point near South Basin on Saturday following the Desert Storm Shootout, according to Mohave County Sheriff's Office.
The Lickity Split, a DCB M35 Widebody 35-foot catamaran that reportedly reached speeds of 158 mph during the race on Saturday, was carrying three passengers at high speed when it crashed around 12:30 p.m., driver Brad Kloepfer, 57; his wife Connie Davis Kloepfer, 58; and Paul Selberg, 69, all of Lake Havasu City.
The Sheriff's Office reported that several "Good Samaritan" boats arrived quickly to the scene, and pulled the passengers from the wreckage. Sheriffs were able to take over resuscitation efforts shortly afterwards, eventually transporting the three boaters to Havasu Regional Medical Center where the Brad Kloepfer and Selberg were pronounced dead. Connie Davis Kloepfer was listed in extremely critical condition.
The boat was recovered from the bottom of the lake by a local salvage company. Initial investigations showed that all three were wearing life jackets and the operator was wearing his safety kill switch. The case is still under investigation, though it is known high speeds were a contributing factor in the crash.
Rick Powell, a photographer who saw the wreck on video, said a wave launched the boat 50 feet in the air, causing it to flip.
Todd Taylor, who helps organize Desert Storm, was flying in a helicopter when the accident happened.
"We got there very fast. We saw the sheriff's department and medical personnel were already there. It all worked; they were on it.
"The boating community is small and tight. We're all friends and we see each other all over the country."
"Brad wasn't being stupid. He knew what he was doing."
"We had our rescue boat and our divers on the course. They got out there pretty darn quickly and assisted with the recovery."
Taylor said it was important to note the accident didn't occur during an organized Desert Storm event. He said it occurred about an hour after the shootout.
"He loaded up his boat and went out for a joyride after the organized portion," Taylor said.
Dan Herron, the safety coordinator for Desert Storm, said once word got out the group shut down the Shootout to send any available safety boats to assist the Sheriff's Department with redirecting traffic away from the site.
Similarly, another accident involving Desert Storm participants happened Saturday morning near The Sandbar, away from the organized events, he said. That accident involved a 28-foot Eliminator boat. The Mohave County Sheriff's Department said the victims had minor injuries.
More like this story
SUBMIT FEEDBACK
Click Below to:
This Week's Circulars
To view money-saving ads...