What your windows and your shoes may have in common
3 local companies share a profitable, semi-symbiotic relationship
Originally Published: April 22, 2018 6:05 a.m.
The three Rs of sustainability — reduce, reuse, recycle — are being demonstrated daily by three companies, two in Prescott and one in Prescott Valley, as they work together to reduce waste, increase their profits and keep jobs local.
MI Windows and Doors, 7555 E. Highway 69 in Prescott Valley, uses a lot of PVC (polyvinyl chloride; we'll call it vinyl) in its manufacturing operations.
As with most places that make something, they have a lot of scrap left over — in this case, vinyl.
MI could just toss out that scrap vinyl with the trash, but, instead, they send it to a company in Prescott called Vinyl Visions.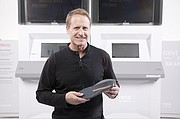 "We are currently sending the majority of our scrap vinyl to them," said Mike Reinert, general manager at MI Windows and Doors. "They're actually grinding it, pulverizing the (scrap) material … and re-extruding it into products that we were using already, and some additional products that we're using.
"We used to send our (scrap) material to places like Reno, Nevada, for example, and they would recycle it there," he said. "Now, we're able to recycle it here in town and get some components back."
This arrangement saves MI money and provides an environmental benefit, too; it cuts down on the amount of material they send to the landfill.
"I think we've helped attract some other companies, like Vinyl Visions, to the area," he added, noting that the company had relocated to Prescott from California, and MI couldn't afford to ship its vinyl waste there to have it recycled.
John Halle, founder and CEO of Vinyl Visions, said the company moved to Prescott because "California is not manufacturer-friendly, and we knew that, if we were going to be a thriving business, we needed to be in an environment that we could grow in, and not an environment that we're punished when we're successful."
Halle added that the connection to MI, which had been a customer, albeit not a large one for Vinyl Visions, was the reason he knew about Prescott.
"We hired over 50 people in Prescott, and we'll probably hire another 50 in the next few years," Halle said.
He said that Vinyl Visions used to buy some recycled PVC from a third party, but when MI and another company, AMI, in Yuma, said they were willing to buy recycled product from Halle, he said, "I bet I can recycle better than the guy I'm buying it from."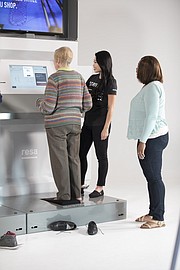 He invested in the equipment needed, and now, Halle said, they offer "100-percent recycled" PVC.
Halle believes it can be a $40 million annual business.
Vinyl Visions buys the scrap MI sends them, re-processes it, and then MI buys it back to make more windows.
"What we're doing with MI Windows, we're hoping to expand it to the whole West Coast," he said.
But that's not the only product Vinyl Visions makes. They're also helping a Prescott-based shoe-insole maker produce a better orthotic.
RESA Wearables, 139 E. Navajo Drive, sells its high-tech insoles at pop-up kiosks in stores like Macy's, Walmart, and Costco.
The company has developed a laser system that allows a customer to get his or her feet measured on the spot, and then, turning to an on-site, 3D printer, have the custom-made orthotic produced right at the kiosk. The one-hour turnaround beats traditional orthopedic labs by about two to three weeks to produce a pair of medical-grade insoles.
RESA owner Glen Hinshaw said, "Vinyl Visions is coating the top cover that we apply to our insoles."
Vinyl Vision uses a specific kind of glue for window components that works well for the RESA product, he said.
"(Halle) also saved us from having our materials put together in south China, which we were originally using, because that's where most shoes are made, and we can now do that in Prescott," Hinshaw said.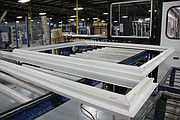 He added that the two companies are about to move even closer, as Vinyl Visions will begin supplying RESA with extruded PVC to be used in the creation of the insoles, themselves.
"I was always troubled by the waste … and the excessive amount of resources that were needed to stock or make shoes, or insides of shoes, custom," he said. "The social responsibility of what we're doing is a side-effect. We first looked at it as pure economics: how we could eliminate the overseas work?"
And with the expanded participation of Vinyl Visions, even more material, once thrown in a dumpster, will be re-used in a consumer product.
"All three of these companies represent different industries; they're fairly diverse" said Keith Watkins, senior vice president for economic/rural development with the Arizona Commerce Authority. "They found a way to partner in mutually beneficial ways. It's an example of what makes Arizona such a great place for innovative approaches to sustainable manufacturing."
More like this story
SUBMIT FEEDBACK
Click Below to: