PHS students honor National School Walkout with assembly calling on students to speak up, be kind
Call for action

By
Nanci Hutson
|
HutsonNanci
Originally Published: April 21, 2018 6:05 a.m.
For 17 minutes on Friday morning, about 100 Prescott High School students paid homage to 14 peers, and three of their male teachers and coaches, who until Valentine's Day attended a Florida high school.
These teenagers were fans of the "Walking Dead," played football, marched in the band, agonized over AP science tests, dressed up for homecoming dance, and scoured college catalogs to see where they would continue their education after high school graduation. The teachers and coaches were husbands, parents and community leaders who strived to inspire their students and athletes to achieve their best.
They are now all gone — victims of the most recent mass shooting in a school setting.
On the 19th anniversary of the massacre at Columbine High School in Littleton, Colorado, where two students gunned down 12 of their classmates, one teacher, and then killed themselves, 2,600 schools across the nation staged walkouts to protest this brand of violence.
Three Prescott High School girls — junior Tessa Eppele, freshman Devyn Nace and sophomore Annika Bramwell — worked with Principal Stephanie Hillig to organize an assembly to reflect and remember innocence interrupted: 17 at Marjory Stoneman Douglas High School in Parkland, Florida in 2018; the 13 at Columbine High School in 1999, 26 at Sandy Hook Elementary School in Newtown, Connecticut in 2012, 32 at Virginia Tech in Blacksburg, Virginia in 2007; and 14 at the University of Texas in 1966; a 15th person died of wounds suffered in the assault in 2001.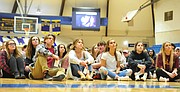 Those numbers do not include the wounded, or the gunman, all except the charged suspect in Parkland, committed suicide, or in the case of Charles Whitman, the University of Texas shooter, was killed by police.
Rather than stage a student walkout with no context, the Prescott students opted to rally students together to honor those who have died, and call for action on how to prevent future tragedies in what should be a place of unity for all young people: their hometown schools.
"I want to wake up tomorrow and know my fourth-hour teacher will be there to teach me; I want to walk across the graduation stage with my best friend holding my hand," Tessa said as she stood with Nace and Bramwell to offer remarks intended to inspire others to stand up and speak out.
"I don't want to hear the fire alarm go off and be stuck in my chair out of fear that I will die. This protest is about safety; parents being confident that when they send their kids to school they expect them to come home safely. Students taking tests in class and not having to evacuate because there is a threat.
"We are here honoring the students and staff at schools all over the country who have died; whose lives have been taken too early because a kid out there was being bullied; people shot and killed because there's not enough kindness to go around for that one kid."
Tessa called on her classmates to speak up if they see a student who appears to be struggling. She asked them to practice kindness, to be the encouraging smile a fellow student might need.
Fellow organizer Devyn Nace, a freshman, said she is standing up because she believes her voice can be one that can "bring about change."
"We can be the solution … We can be the voice of reason," she said.
The political debates in the aftermath of these tragedies can pit people against one another. These young women were clear they simply want to highlight that every person has a role to play in halting these horrors.
"Some may say that gun control is the answer. Others say society is to blame. I say understanding, kindness, and learning to listen to each other is the answer," Devyn said.
In the majority of these mass shootings, attackers showed signs of distress, even voicing their intentions to harm others, be that in person or on social media, according to federal officials.
"It often happens that the signs are there, and it could happen to any school," Nace said.
In the audience, Aydan Bruce, a junior, listened to the speeches and sobbed.
"This is so heartbreaking … that people can go to school and be killed just become someone is mad," Aydan said.
"I don't want to be scared when I'm going to school … I don't see why change hasn't happened already."
Prescott Unified District Superintendent Joe Howard was in the audience for the rally, as was Hillig.
Both commended the students for planning such a meaningful, and safe, event.
"It was beautiful," Hillig said, noting she read each of the speeches that moved her to tears.
Just before asking for a final 30 seconds of silence, Annika encouraged everyone to think of not only those who died but those left behind to grieve. And she recited a plea: "Never Again."
More like this story
SUBMIT FEEDBACK
Click Below to: