Originally Published: April 20, 2018 6 a.m.
Movies playing at Harkins Theatres, 7202 Pav Way, Prescott Valley (Highway 69 between Glassford Hill and Lake Valley roads). 928-775-7444; www.harkins.com.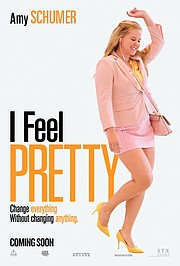 (NEW) I FEEL PRETTY - A woman who struggles with feelings of insecurity and inadequacy on a daily basis wakes from a fall believing she is suddenly the most beautiful and capable woman on the planet. With this newfound confidence, she is empowered to live her life fearlessly and flawlessly, but what will happen when she realizes her appearance never changed? Stars Amy Schumer, Emily Ratajkowski, and Michelle Williams. Rated PG-13 – comedy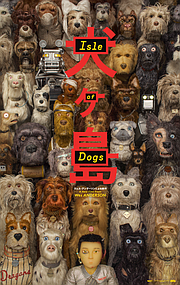 (NEW) ISLE OF DOGS - When, by executive decree, all the canine pets of Megasaki City are exiled to a vast garbage-dump called Trash Island, 12-year-old Atari sets off alone in a miniature Junior-Turbo Prop and flies across the river in search of his bodyguard-dog, Spots. There, with the assistance of a pack of newly-found mongrel friends, he begins an epic journey that will decide the fate and future of the entire Prefecture. Stars Scarlett Johansson, Edward Norton, and Bill Murray. Rated PG-13 – drama, fantasy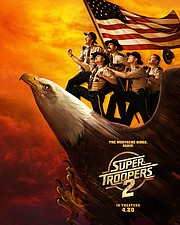 (NEW) SUPER TROOPERS 2 - Fired for their previous shenanigans, former Vermont Highway Patrol officers Thorny, Farva, Rabbit, Foster and Mac get a shot at redemption from Capt. O'Hagan and Gov. Jessan. The wacky quintet must provide law enforcement for a French Canadian town that's transitioning to U.S. sovereignty. Their unconventional methods soon get put to the test when they encounter a smarmy mayor, mischievous Mounties, a smuggling ring and a 1,300-pound bear. Stars Jay Chandrasekhar, Steve Lemme, and Kevin Heffernan. Rated R – mystery, crime
Also showing:
RAMPAGE - Dwayne Johnson stars as primatologist Davis Okoye, a man who keeps people at a distance but shares an unshakable bond with George, the extraordinarily intelligent, incredibly rare albino silverback gorilla who has been in his care since he rescued the young orphan from poachers. But a rogue genetic experiment gone awry mutates this gentle ape into a raging creature of enormous size. To make matters worse, it's soon discovered there are other similarly altered animals. As these newly created alpha predators tear across North America, destroying everything in their path, Okoye teams with discredited geneticist Kate Caldwell (Naomie Harris) to secure an antidote, fighting his way through an ever-changing battlefield, not only to halt a global catastrophe but to save the fearsome creature that was once his friend. Also stars Jeffrey Dean Morgan and Breanne Hill. Rated PG-13 – fantasy, science
A QUIET PLACE – This movie's summary is simple: If they hear you, they hunt you. Stars John Krasinski, Emily Blunt, and Millcent Simmonds. Rated PG-13 – drama, thriller
BLOCKERS - Julie, Kayla and Sam are three high school seniors who make a pact to lose their virginity on prom night. Lisa, Mitchell and Hunter are three overprotective parents who flip out when they find out about their daughters' plans. They soon join forces for a wild and chaotic quest to stop the girls from sealing the deal – no matter what the cost. Stars John Cena, Leslie Mann, and Ike Barinholtz. Rated R – comedy
TRUTH OR DARE - Olivia, Lucas and a group of their college friends travel to Mexico for one last getaway before graduation. While there, a stranger convinces one of the students to play a seemingly harmless game of truth or dare with the others. Once the game starts, it awakens something evil – a demon which forces the friends to share dark secrets and confront their deepest fears. The rules are simple but wicked – tell the truth or die, do the dare or die, and if you stop playing, you die. Stars Lucy Hale, Tyler Posey, and Violett Beane. Rated PG-13 – thriller, horror
READY PLAYER ONE - From filmmaker Steven Spielberg comes the science fiction action adventure "Ready Player One," based on Ernest Cline's bestseller of the same name, which has become a worldwide phenomenon. The film is set in 2045, with the world on the brink of chaos and collapse. But the people have found salvation in the OASIS, an expansive virtual reality universe created by the brilliant and eccentric James Halliday (Mark Rylance). When Halliday dies, he leaves his immense fortune to the first person to find a digital Easter egg he has hidden somewhere in the OASIS, sparking a contest that grips the entire world. When an unlikely young hero named Wade Watts (Tye Sheridan) decides to join the contest, he is hurled into a breakneck, reality-bending treasure hunt through a fantastical universe of mystery, discovery and danger. Stars Tye Sheridan, Olivia Cooke, Ben Mendelsohn, and T.J. Miller. Rated PG-13 – thriller, fantasy
I CAN ONLY IMAGINE - Based on the incredible true-life story that inspired the beloved, chart-topping song, I Can Only Imagine is a song that brings ultimate hope to so many - often in the midst of life's most challenging moments. Amazingly, the song was written in mere minutes by MercyMe lead singer Bart Millard. In reality, those lyrics took a lifetime to craft. Stars Madeline Carroll, Priscilla Shirer, and Trace Adkins. Rated PG – drama, family
CHAPPAQUIDDICK - On July 18, 1969, Sen. Ted Kennedy drives his car off of a bridge on Massachusetts' Chappaquiddick Island. The accident results in the death of passenger Mary Jo Kopechne, a 28-year-old campaign strategist who worked for Kennedy. The ongoing investigation into the mysterious and scandalous events forever alters his political legacy – and ultimately changes the course of presidential history. Stars Kate Mara, Jason Clark, and Jim Gaffigan. Rated PG-13 – thriller
SGT. STUBBY: AN AMERICAN HERO - A stray dog is rescued off the streets by an American soldier and goes on to become a hero of World War I. Voiced by Logan Lerman, Helena Bonham Carter, and Gerard Depardieu. Rated PG – history, adventure
THE MIRACLE SEASON - Caroline "Line" Found is the star player and captain of the volleyball team at West High School in Iowa City, Iowa. Her tragic death in an accident inspires Caroline's coach and teammates to band together to try and win the state championship. Stars Erin Moriarty, Danika Yarosh, and Helen Hunt. Rated PG – drama, sports
BEIRUT - In 1980s Beirut, Mason Skiles is a former U.S. diplomat who is called back into service to save a colleague from the group that is possibly responsible for his own family's death. Meanwhile, a CIA field agent who is working undercover at the American embassy is tasked with keeping Mason alive and ensuring that the mission is a success. Stars Jon Hamm, Rosamund Pike, and Dean Norris. Rated R – drama, thriller
THE LEISURE SEEKER – Traveling in their family Leisure Seeker vintage recreational vehicle, John and Ella Spencer take one last road trip from Boston to the Hemingway House in the Florida Keys before his Alzheimer's and her cancer can catch up with them. Stars Helen Mirren, Donald Sutherland, and Kirsty Mitchell. Rated R – drama, romance
SWEET COUNTRY - An Aboriginal man goes on the run after he kills a white man in self-defense. Stars Hamilton Morris, Sam Neill, and Anni Finsterer. Rated R – drama, thriller
More like this story
SUBMIT FEEDBACK
Click Below to:
This Week's Circulars
To view money-saving ads...