Earth Day brings attention to our home; Firewise Expo does, too
Saturday celebrates clean air, environment, fire prevention

Originally Published: April 20, 2018 6:01 a.m.
Downtown Prescott is the place to be Saturday and Sunday, April 21-22, as the community celebrates Earth Day and the annual Firewise Expo in a variety of activities.
What better way to show love for the planet than to help keep it healthy and looking nice? The Granite Creek Cleanup attracts about 500 community members every year to help with trash and debris along the creek, trails and natural places. Bring water and gloves and spend two hours along Granite Creek or Watson Woods Riparian Preserve removing trash.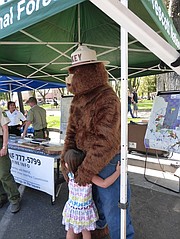 For the less adventurous, take a walk down Cortez Street between Goodwin and Gurley streets any time between 9 a.m. and 3 p.m. where the Firewise Expo shares space with Earth Day booths along the Yavapai County Courthouse Plaza.
Wildfire Expo includes fire engines, booths, displays, Prescott National Forest and Smokey Bear, and a wealth of information on emergency services, fire prevention, National Weather Service, Red Cross, the Bug Man (a forest health specialist) from Arizona Dept. of Forestry and Fire Management, Bureau of Land Management, Animal Disaster Services, Jeep Posse, and more.
Children and adults will enjoy seeing antique firetrucks and state-of-the-art firefighting equipment. Find out what communities learned from the Indian, Doce, Yarnell Hill and Goodwin fires, and how to protect your homes and families.
Open Space Alliance and Yavapai Trails Association help sponsor Earth Day, now in its 48th year, where the community can visit booths filled with information on preserving the environment, energy conservation, clean air, solar energy, recycling, children's activities, and more.
The Citizens Water Advisory Group booth will have a plethora of free literature, and will display a large map that shows declining area well levels. This is a good place to get your questions answered and register for a drawing for a free rain barrel and diverter.
Prescott Indivisible, Sierra Club and the Yavapai County Climate Change Coalition are sponsoring the People's Science and Climate March at 3 p.m. around the Yavapai County Courthouse Plaza. Celebrate a passion for science, encourage support for science education and scientists, and express the need for positive action to combat ecological devastation. At 200 other locations around the world, a March for Science took place April 14.
All day on Saturday, April 21, national parks are open to the public for free. Four days a year, visitors can get in without paying a fee. April 21 is the first day of National Park Week, and celebrated as an entrance-fee free day. Two more free dates this year to enjoy are Sept. 22, National Public Lands Day, and Nov. 11, Veterans Day. Including Grand Canyon, there are 15 national parks in Airzona.
The Mayer Community Clean Up at the Yavapai County Transfer Station, 11130 S. Antelope Creed Rd, one-quarter mile south of Mayer, is free to county residents. Hours are 8 a.m. to 4 p.m. Thursday-Saturday, April 19-21. The station accepts bagged trash, yard trimmings, tires, household appliances, furniture and auto batteries.
The Prescott Mothers in Bloom offers a fundraising event to benefit Yavapai Big Brothers Big Sisters from 11 a.m. to 2 p.m. Sunday, April 22, in the Holiday Courtyard, 150 S. Montezuma. Tickets are $10 adults, $5 kids, and cover planting activities with Prescott Farmer's Market and Whipstone Farm, an Earth Day Reading Nook with Peregrine Book Company, a braid bar with Dream by Day Salon, live DJ, kids yoga session, food and drinks from Ms. Natural's, Soul Ride Fun, Ergobaby fit station, raffles and door prizes.
Slow Food Prescott is sponsoring a three-part series and discussion on the connections between food, faith and climate change. The second talk, "The Intersection Between Hunger, Food and Climate Change," takes place at 6 p.m. Wednesday, April 25, at the Prescott United Methodist Church sanctuary, 505 W. Gurley St., Prescott. On May 9, also at 6 p.m., is the third part, "How Shall I Be? What Shall I Do?"
More like this story
SUBMIT FEEDBACK
Click Below to: