A decade of chalking it up

Originally Published: April 20, 2018 6 a.m.
West Yavapai Guidance Clinic is putting on the 10th annual Chalk it Up event this weekend with all the money raised from sponsorships and donations going to community mental health programs, according to Chalk it Up Founder Susan Crutcher.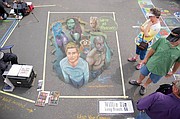 Last year, the event raised between $18,000-20,000 and this year the goal is $25,000, Crutcher said. They're getting close to that number too, she said.
The event takes place from 10 a.m. to 4 p.m. Saturday and Sunday, April 21-22 at the National Bank of Arizona parking lot, 201 N. Montezuma St. It's a free event open to artist of all ages and abilities, Crutcher said.
"It is a wonderful intergenerational event," she said. "You see lots of barriers breaking down, people that wouldn't perhaps ordinarily talk with one another."
Crutcher said she enjoys seeing those intergenerational barriers break down, as well as watching people have fun with their drawings. In the 10 years the event has been going on, she's watched kids grow up participating, she said. It's also fun to see how the level of art skill has risen over the years, Crutcher said.
Since it's temporary art, chalk gives people a way to experiment and explore, she said. Further, the exchange between more experienced artists and lesser experienced artists is one of the best parts of Chalk it Up, Crutcher said.
Depending on space available, participants create as many chalk drawings as they want, she said. There are different sizes of squares, though larger squares are limited to featured and guest artists who have been selected in advance, Crutcher said. This year the featured artists are Chris Brake from California and Carolyn Watson Dubisch from Phoenix, she said.
It's not limited to people who can get down on the ground to chalk either, Crutcher said. Those who can't get down can set up a table and chalk on provided tiles, she said.
"We try to look at all ages and abilities and skill levels of art," Crutcher said. "It's a great learning environment for many different things."
A lot of people in recovery programs in town have a hand in the event too, she said. They'll help set up on Friday and Saturday, and see how much Chalk it Up is a part of the community, Crutcher said. Oftentimes, they'll come back to participate, allowing them to engage in a different way and for others to see them in a different light, she said.
For more information on Chalk it Up, visit www.prescottchalkart.com.
More like this story
SUBMIT FEEDBACK
Click Below to: