Prescott's launch of program to manage homelessness raises questions on human dignity
'Change for the Better:' Is it compassionate?

By
Cindy Barks
|
Cindy_Barks
Originally Published: April 19, 2018 6:01 a.m.
Compassion — and questions about whether the city is showing enough of it — was under consideration Wednesday morning during the kickoff of the City of Prescott's new Change for the Better program.
About two dozen people turned out at 8 a.m. April 18 for the first of two meetings that day on the program the city is launching in an attempt to manage panhandling and other issues associated with the local homeless population.
The meetings' primary purpose was to allow businesses, organizations and churches to sign up to help collect money to support local programs that assist the homeless. The money would be provided to the programs in twice-yearly grants.
By the end of the morning meeting, the city had handed out four of the logoed donation boxes, and several more locations were in the works through online registration.
AIM FOR BALANCE
Tyler Goodman, the city's special projects and legislative coordinator, explained the Change for the Better program.
He mentioned the signs the city has planned to install downtown, urging people not to give directly to panhandlers. He talked about parking-meter-style collection locations, which will ask people to donate their spare change to support local efforts to help the homeless. He talked about donation boxes in businesses, and he mentioned barriers on park benches designed to discourage the homeless from sleeping there. He talked about landscaped planters that will also discourage people from lying down in public places, and he mentioned a work program that will offer jobs to homeless people. He described an "ambassador" program, in which people paid by the city will walk the downtown streets to provide information and security.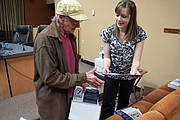 In combination, Goodman says the program represents a balanced approach. "We're trying to balance the various voices that we've heard coming into City Hall," he said.
On one hand, Goodman said the program would discourage those who are "panhandling and asking for money for the wrong reasons."
At the same time, he added, the program would strive "to give you outlets to work and to get the resources you need if you're trying to do what's right." 'WRONG MESSAGE'
But some attending the meeting questioned whether the program is balanced and whether it shows compassion toward people who resort to panhandling to survive.
Sister Anne Fitzsimons, of Sacred Heart Catholic Church, questioned Goodman about the expected cost of the Change for the Better initiative. She said the estimated total cost of $10,000 would be better used to directly help the homeless.
"I think it would be better and more positive for people," Fitzsimons said. "I think of myself — if it happened to me that I happened to be down on my luck — I would be happy to be treated in a more humane kind of way."
She added that among Christians, "Jesus said we should treat other people the way we would like to be treated."
Mayor Greg Mengarelli responded: "That's so true, and we have so many great services for people who are down on their luck. I was amazed when I saw the pamphlet of some 12 or 14 pages of services that we provide through CCJ (Coalition for Compassion and Justice) and U.S. Vets and others."
Margaret Indelicato, who also attended the meeting, was especially concerned about the city's plan for barriers on its benches and planters.
Indelicato, a member of Sacred Heart Church, said she and others go to local shelters and help to feed homeless people there.
"We see the face of them," she said. "They're real people. They're our brothers and sisters. We are a compassionate country, and I don't think we're acting that way here. I would not like to see barriers on benches; it's sending a wrong message."
'NO HUMAN DIGNITY PANHANDLING'
Mengarelli maintained that the Change for the Better program offers a better option for the homeless than does panhandling.
"Panhandling is not really an answer, in my book," he said. "It's a really short-term thing. It doesn't give them dignity. To panhandle — there's no dignity in that. So we want to help them get a job, so they don't need to be out on a street corner."
Mengarelli said the Change for the Better stems, in part, from a number of complaints from people who have felt unsafe walking around the downtown at night or leaving grocery stores, where panhandlers aggressively approach them.
"You have to understand that we're trying to balance this idea that people are feeling threatened," Mengarelli said. "They don't feel like they can walk around the downtown in the evening and in the grocery store parking lots."
In 2013, the city created an ordinance that restricts panhandling in an aggressive manner in a public areas.
Of the new program launched Wednesday, Mengarelli said, "We've had a lot of very positive feedback on 'Change for the Better.' People are very supportive, and I'm very hopeful that this is going to do what we hope it's going to do."
Related Stories
More like this story
SUBMIT FEEDBACK
Click Below to: