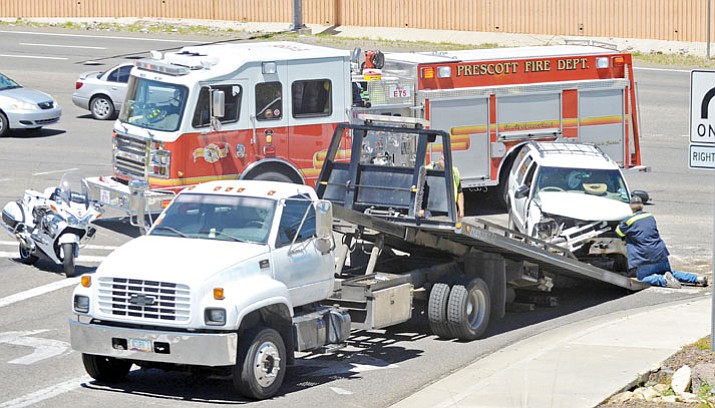 Originally Published: April 16, 2018 6:06 a.m.
When a woman wrote to the Prescott Valley Police Department saying she couldn't pay the $585 bill from the company that towed her vehicle from Fain Park following the suicide of her estranged husband, the department decided to change its requirements for tow companies on its rotation list.
The changes will help eliminate excessive charges for people whose vehicles are towed without their consent. A consensual tow might occur when an individual says, "I want so-and-so to tow my car." When a person is unable to specify a company, if he is injured or taken to jail, for example, is it considered non-consensual.
PVPD Chief Bryan Jarrell and Sgt. Rob Brown, traffic section supervisor, presented the changes in requirements to the PV town council during its March 15 study session.
After receiving the resident's letter, Brown asked the company for a receipt, and noticed all the numbers were scratched out and new numbers written in. Even with the new numbers, he felt the bill was inflated and improper.
Discrepancies also existed in the amount the woman was told she owed, and the amount the company reported to a PV police officer. The company also charged $110 for the initial tow, not the $85 reflected in its fee schedule. It charged mileage for 26 miles because the driver went to the incorrect tow yard. The driver also charged $95 for "extraordinary time" when he had to wait at the first tow yard for directions to take the vehicle to the correct yard.
"This statement is false and borders on fraudulent," Jarrell said in a letter to the company dated Feb. 8. "Your driver followed the police officer to the County lot and was immediately told to take the vehicle to Prescott Towing… your driver did not have to wait any additional time at the County impound yard."
PVPD has suspended the company from its rotation list for one year, after the company refunded the overcharges March 15 to the vehicle's owner.
"We discovered that almost every towing company is engaged in the practice where they charge an individual the very maximum allowed under our prior regulation," Jarrell said.
EXTRA FEES
PVPD currently permits a maximum initial tow fee of $200. But companies then throw in mileage at $3.50 per mile, and $30 per day for storage, and then other extras such as if it is a larger vehicle, or if slightly off the road, and wait time, and special equipment.
"In the end, you end up with a bill for $585," Jarrell said.
To put this in perspective, he said, "If you had a vehicle break down in your driveway and you called a tow company, it would cost around $85 to have your vehicle towed somewhere. If I called them, or a member of the police department, it was automatically $200."
Sometimes a company would add $40 just to bring the car around to the front gate for pick up, he added. In one case, a company wanted to charge $1,600 to allow individuals to get their private belongings out of a towed motor home.
It is nearly impossible for PVPD to conduct investigations into these kinds of overcharges. "They just don't have that kind of time," Jarrell said.
"Changes to regulations will prevent these undesirable business practices, and more importantly, protect our residents against these predatory price gouging," he said.
PVPD are looking at making the following changes:
Maximum tow rate of $100.
Defines a storage day as midnight of one day to midnight the next.
Limits storage fees to $30, and prorates by the hour on the first day of storage.
Limits mileage fees to seven miles at $3.50 per mile. Prohibits add-on fees for access to vehicles during normal business hours.
Requires companies to provide monthly reports of all Prescott Valley rotation tows.
In July, the department will pick the top 10 tow companies that meet the new requirements for its rotation list.
"We'll try to do a better job of making sure they are treating our citizens with respect and the proper customer service that we do," Brown said.
PRESCOTT PD
Prescott Police Department also keeps a list of tow companies it calls when drivers are injured or arrested and unable to be behind the wheel. The department was unable to provide further information.
YAVAPAI COUNTY SHERIFF
YCSO has about 25 tow company referrals in various rotations around the county. Some are contracted for specific areas and functions, for instance, evidence-based tows, said YCSO Media Relations Coordinator Dwight D'Evelyn.
"Rotations are strictly monitored and adhere to policy. YCSO has received very few complaints over the years from vehicle owners regarding tows. There have only been a couple of rotation removals in the past due to complaints," D'Evelyn said, adding the agency keeps a "pretty tight rein of compliance on our contract tows."
Tow companies are prohibited from soliciting for repair service, exhibiting rude or abusive behavior, and from taking photographs, unless for documentation of damages with authorization of law enforcement personnel.
The county's 27-page specifications and contract has a basic, per-hour, fixed fee of $75 for cars and vehicles less than one ton, prorated every 15 minutes; and $4.50 per mile. The roadside assistance is a flat rate of $75, with a fuel surcharge, if needed, of 15 percent of the total service bill. Storage fees, after the first full 24-hour period, is $38 per day. An after-hours gate fee is $45.
If the tow driver has to wait for collection of evidence or removal of victims, additional fees accrue in 15-minute increments.
Follow Sue Tone on Twitter @ToneNotes. Reach her at stone@prescottaz.com or 928-445-3333, ext. 2043.
More like this story