Community helps homeless man find stability
Lessons learned about giving, expectations along the way

By
Max Efrein
|
mefrein
Originally Published: April 15, 2018 6:05 a.m.
A community effort to restore stability to a homeless man's life has come to fruition. However, the journey was not without its challenges.
It all started with a series of posts on Facebook.
Robert Heaney, 53, rolled into Prescott Valley on February 8 with nothing but his car, dog and a few personal possessions. Without money and desperate for some food, he decided to ask for help through Prescott's community Facebook page.

"Anybody can spare me a free can of food?" Heaney posted. "I don't want to eat my shiba's kibble lol but I think due to not eating all day and my diabetes is why I don't feel well, not even a scrap of food to be found in my car!!! (Just got back, I'll be fine tomorrow, ty!!! I'm in town at Fry's, Miller valley one."
Immediately, there were replies, one after another. Some were criticizing Heaney's use of social media to ask for handouts, others wanted to help.
One person brought him tacos and soda, another bought him some groceries and others were offering to help him find a job. Everything was alright for the time being.
A couple weeks later, Heaney again reached out for help through the community Facebook page. This time, he needed some gas for his car so he could use its heater for a particularly cold night ahead.
"Can somebody help us with a bit of fuel for the car? It's gonna be cold tonight…," he posted.

There were more negative comments this time than before, but a man still agreed to fill up Heaney's tank and give him some food. Others provided suggestions on emergency shelters he could get in touch with so he and his dog wouldn't have to suffer through another freezing night in a car.
THEN THIS HAPPENED
A local businesswoman named Pamela Franklin had been following the posts. She had an old motorhome on her property in Dewey that she wanted to get rid of and thought this might be a good opportunity to do something useful with it.
"I thought to myself, I wonder if this guy would want this, so I asked the question," Franklin said.
Heaney said he was interested, and thus began what ended up being a seven week excursion full of ups, downs and ultimate success.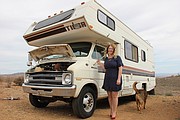 Knowing the motorhome would require some serious cleaning and fixing to meet basic living standards, Franklin started a Facebook group called Life Restoration - Humanity - Prescott Arizona. She invited her friends, relatives and anyone on the Prescott community page to join. About 70 did. A week later, a determined few from the group met at Franklin's home to start working on the motorhome.
"We made serious progress that day," Franklin said.
The effort was off to a positive start and one of the group's members was even able to connect Heaney with someone at MI Metals in Prescott Valley, where he landed a full-time job soon after. Others in the group began offering to donate supplies, services and money toward the project.
As the project wore on, however, much of the initial enthusiasm and momentum faded and frustrations arose.
Several people who had said they would help with certain aspects of the project started dropping out for various reasons. Franklin believes it was partly because Heaney wasn't necessarily the perfect charity case.
"We had people saying that [Heaney] wasn't grateful," Franklin said. "They wanted it to be a perfect scenario for them and how they wanted to give and what they thought was reasonable, and they wanted Robert to behave in a specific way based off of them giving, and that's just not reality, that's just not the way that it goes."
THE BLOWUP
As people dropped out of the project, more of the burden of getting it done fell on Franklin and a handful of others who wanted to see it through. Additionally, Heaney had been relying on those select few for consistent help with food, shelter and other needs as he waited for his first paycheck from his new job. They didn't mind providing this at first, but once he received the paycheck, they expected he would be able to take care of himself for the most part. But that didn't go so smoothly.
Heaney used most of his paycheck on making some repairs to his car and soon came back to Franklin and others for more help. When they refused, it set Heaney off on a negative spiral that eventually led to him ranting on the Facebook group page about how poorly he was being treated and cursing many of those who had helped him.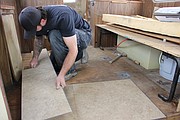 While many were hurt and disturbed by the things he said, Franklin didn't let it put an end to the project.
"Just because the man had an outburst, I'm not going to say, forget you now," she said. To her, that would have simply been destructive.
"He is in the position he is in for a reason," Franklin said. "And he has outbursts."
Shortly after this incident, Heaney knew the situation had soured and sent Franklin a text message that said "Have you given up on me too?"
Her response: "No. I don't give up."
FINISH LINE
By Thursday, April 12, the motorhome was more or less complete.
Many hours of donated labor and at least $1,000 had been poured into it.
"I hope that we don't hit any unforeseen snags," Franklin said on Thursday. "The goal is to get it to the man this weekend."
While it wasn't easy, Franklin said she's glad she and the others finished what they started.
"I was able, along with everyone else who has contributed, to get him up and out of that situation and get him back in the workforce and get him in his own place," she said.
And though Heaney had a hard time of always clearly expressing it, he said he is grateful.
"It's very nice," Heaney said. "It changes my opinion of Prescott, because I grew up here and I've never had a very good opinion of the people."
Franklin said she'll likely need a break from this sort of charitable work for a little bit, but intends to keep the Facebook group active so that perhaps other projects like this could be done in the future.
"Maybe I can help somebody else somehow," Franklin said. "Maybe this turns into a thing now where we can take an old discarded motorhome and flip it to so that it's a homeless person's house that they can live in."
More like this story
SUBMIT FEEDBACK
Click Below to:
This Week's Circulars
To view money-saving ads...