A cautionary tale for fitness fans
'Sgt. Steve' makes a comeback
Originally Published: April 15, 2018 6:05 a.m.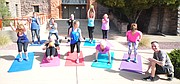 Once upon a time, Steve Rosen was an out-of-shape sergeant first class in the U.S. Army. He didn't start that way; he got bored doing monotonous military push-ups and sit-ups.
"I love the army, but one thing they still haven't gotten right is making fitness fun and effective," he said. "It certainly didn't inspire me to go above and beyond."
Then, in 2009, he began to learn how to get in shape and have fun doing it.
'I was in decent shape when I retired," he said, "because I had already started my fitness transformation."
It wasn't until Rosen took his 20-year retirement from the army in 2013 that he really began to ramp up his fitness routine, he said.
In his persona of "Sgt. Steve," he opened the Kickstart Bootcamp for Women in Prescott.
"I felt like, if I created a fitness program that is safe, effective and fun – something where people could enjoy themselves doing something that is normally unpleasant – that, right there, is one of the big keys to fitness success," he said.
Watch this
Rosen was successful with the fitness boot camp and was gaining confidence in his abilities. By January 2016, he was, admittedly, showing off, posting videos of himself on Facebook doing extreme forms of exercises.
Then he tried a back handspring on a trampoline.
"It was me trying to go way too far, way too fast," he said. "It was my ego trying to do a move my body couldn't do."
He landed on his head and fractured his T1 vertebrae.
"He sent me the video, and he said, 'I think I'm okay, but I'm going to go to the emergency room anyway' and, boy, it's a good thing he did," said Katie Folsom-Nelson, who teaches the Prescott Valley Kickstart Bootcamp.
It took 18 months for Rosen to fully recover and get back to his previous level of fitness.
In September 2017, he once again decided to show off for a camera and tried to do what's called an archer pushup. He hadn't done one in two years.
"I was in total show-off mode," he said.
He dislocated his left shoulder by three inches, and it came completely out of the socket. The pain was excruciating.
"He called me, and I could hear the fear in his voice," said Folsom-Nelson. "I knew something was seriously wrong."
The arm had to be immobilized for a week before his doctor could even look at the situation. She suggested surgery might be needed.
Rosen didn't think surgery was going to be required, though, and instead, found a physical rehabilitation program.
"Don't ever let me hand you a camera and say, 'Watch this,'" he said, with a chuckle.
"There's always a video; he's always got someone recording," said Folsom-Nelson.
The aftermath
When Rosen was injured, he was "super scared," he said, because his ability to run a fitness camp was at risk.
"That's why I have completely changed the way I train," he said.
"There were two times I had to teach class either in a sling or completely immobilized."
He also finds the ability to exercise freely helps him relax his mind.
Now he calls what he does "playing." He imitates animal movements and locomotive movements.
"The more I get into it, the more I enjoy it. Instead of waiting for the workout to end, the more I enjoy it."
He said he does not buy the current fitness paradigm.
"A lot of people promote 'No pain, no gain,'" he said. "I absolutely don't believe in that."
He offers an alternative phrase: "If you want to earn it, you gotta burn it."
The burn of muscles being challenged is not physical pain, he added.
He's back at full capacity now, teaching his students at the early morning boot camps to have fun and get in shape at the same time.
Burt if he ever hands you his phone and says, "Watch this," he hopes you'll stop him.
More like this story
SUBMIT FEEDBACK
Click Below to:
This Week's Circulars
To view money-saving ads...