Illusionist Jay Owenhouse returns to Prescott

Originally Published: April 13, 2018 6 a.m.
Updated as of Thursday, April 19, 2018 5:39 AM
Jay Owenhouse, known as "The Authentic Illusionist" is bringing his Dare to Believe show back to the Yavapai College Performing Arts Center.
This is the second time he's brought the show to Prescott, Owenhouse said. He and his family really like the area and the people, he said.
"We've always wanted to come back," Owenhouse said. "It's a neat town, it reminds us of our hometown in Bozeman."
Owenhouse performs at 7:30 p.m. Thursday, April 19 at the Yavapai College Performing Arts Center, 1100 E. Sheldon St.
This upcoming show is similar in the sense that it features the Bengal tigers, as well as his family along with an evening of largescale illusions, he said. Yet, there is a certain amount of the show left unplanned and unscripted in order to do things with people in the audience, Owenhouse said. As such, the show is different every night.
Two years ago, Owenhouse said the show includes recreating Harry Houdini's most dangerous escapes. At that time, he was doing the Jaws of Death where he suspends two, 1,200 pound steel jaws and hangs upside down between them in a vintage straightjacket while the rope is on fire, he said. At one point, he took it out of the show, but then did a poll on social media, Owenhouse said.
"It was the number one thing people wanted to see again," he said. "We actually put it back into the show this year."
Tickets are $39 for regular seating and $69 for VIP seating, which comes with a souvenir lanyard and VIP badge, a souvenir program and a meet and greet with Owenhouse and one of his tigers 45 minutes before the show. Tickets can be purchased online at www.ycpac.com or by calling 928-776-2000.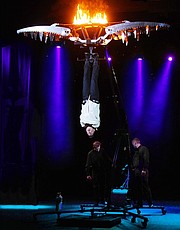 Owenhouse said he does his shows with his family, including his four kids who range from 4 years old to 28 years old. They all have their own busy lives during the week and come together to do it on the weekend, he said. It's been an important part of their family dynamic and keeping each other close, Owenhouse said.
There's also two tigers in the show, he said. Those tigers are also part of the family, Owenhouse said.
"They do the show because they like it, he said. "They like to travel with us."
Owenhouse is also an animal activist and said that a portion of every show's proceeds goes to The Corbett Foundation, a group dedicated to the protection of Bengal Tigers. In 1900, there were 100,000 in the wild and now there's 3,800, Owenhouse said. Not only has the show been able to help provide money for the foundation, but it creates awareness to people, he said.
Over the last several years, magic has become more popular, Owenhouse said. That's great because a good illusion show takes people back to a simpler sense, a feeling of wonder most haven't felt since childhood, he said. As such, his approach to the show is not getting up on stage and fooling people, Owenouse said.
"We're taking our audience on a journey, using the illusions as a metaphor really to remind people that anything is possible," he said. "If you believe and want it enough, you can do anything."
More like this story
SUBMIT FEEDBACK
Click Below to:
This Week's Circulars
To view money-saving ads...