Originally Published: April 13, 2018 6 a.m.
The eight-person American roots orchestra known as Dustbowl Revival is coming back to Prescott, performing at the Elks Theatre and Performing Arts Center along with the Shook Twins.
Presented by the Folk Sessions, this will be the fifth time Dustbowl Revival has performed in Prescott, previously playing at venues, such as The Raven and Prescott Center for the Arts, said guitarist and co-lead singer Zach Lupetin. It's a great city to play in with great people, Lupetin said.
"People really know what they're talking about and are very friendly and just excited for roots music in general," he said. "I can safely say we've never had a bad show in Prescott."

The show starts at 7 p.m. Thursday, April 19. Tickets are $30 for adults, $25 for seniors and $50 for opera box seats, and can be purchased online at www.prescottelkstheater.com, by calling 928-777-1370 or at the door one hour prior to the performance.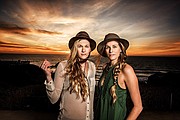 Recently, Dustbowl Revival released an album, which saw them go from Dixieland jazz and Depression-era folk songs to a soul, funk and roots-infused rock sound. It's something that is the band's own and very unique, Lupetin said. Dustbowl Revival has been together for almost a decade now, and it's been great to see its evolution from a more acoustic old-time kind of folk band to where it is today, he said.
The best aspect to being a part of Dustbowl Revival is the unique instrumentation behind the songwriting and storytelling, Lupetin said.
"It's like having your own mini orchestra with you to bring songs to life," he said. "There's a lot of really talented, thoughtful musicians in the band that have master's degrees in composition and composing. It's a very educated, talented group and we kind of create songs sometimes in different ways."
There will be times when the band is in its rehearsal space and creates a groove, which ends up being the seed of a song, Lupetin said. Other times, he'll come up with something at home, show the band and the song gets transformed over the different instruments, he said. The band members are always experimenting ambitiously with different ways of coming up with songs, wanting to make the experience special, Lupetin said.
Where music falls into different categories and genres, Dustbowl Revival shape-shifts into a lot of different eras and genres, he said. It's something unique and fun to watch with good harmonies sure to get people up and dancing, Lupetin said.
By Jason Wheeler, follow him on Twitter @PrescottWheels reach him at 928-445-3333 ext. 2037.
More like this story