Originally Published: April 13, 2018 6:05 a.m.
In all of the years that I've been writing 'Ask the Contractor' and answering questions from our community, never have I received a question about painting ceilings.

I have been asked to settle arguments, asked for my professional opinion, and I've shared knowledge and given pointers, but never have been asked about painting ceilings.

But there is a "First Time for Everything." That's the name of the first studio album by country music band Little Texas. The album was released in 1992 on Warner Bros. Records and certified Gold by the Recording Industry Association of America for sales of 500,000 copies.

'Ask The Contractor' began in January of 2011, and, to date, 1,137 columns have been released. I'd love to think this column has been certified Gold by our readers.
Help, we have hired a painter to repaint the inside of our home. I would like to have the ceilings painted, and my husband is saying "absolutely not." I am asking you to be on "team ceiling" and help convert and encourage my husband to go with painted ceilings. — Lucy and Bob, Prescott.
The fifth wall, as ceilings are known, can have considerable decorating impact on any room. To convert and convenience Bob, here are some interesting points to consider on painting the ceiling.

Deciding whether to use a color on the ceiling that is already in use on the walls of the room or to, instead, use a different color for a ceiling depends on a variety of determining factors. In some situations, it is more aesthetically pleasing to apply a different paint color to a ceiling.
There are many variables to take into consideration in such a decision. If you want to paint a ceiling, consider, for some examples, the size of the room, decorating style, amount of natural light, architectural features and personal preference.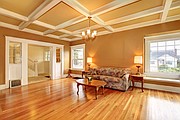 Ceiling paint colors will visually alter the size of a room. Applying a paint color that's at least two or three shades darker than the existing wall color helps to "shrink" the visual size of a room. In addition, dark paint colors are inclined to create the illusion of a lower ceiling and cozier space. Paints with a matte or flat finish create a velvety look to cover cosmetic blemishes.
Conversely, a small room with a low ceiling that's painted in a light color can visually raise the ceiling, creating a more spacious-looking room. A crisp-white ceiling paint in a glossy finish will create the greatest visual expansion in a room.
Painting a ceiling the same color as the existing walls supplies a uniform, monochromatic look. Continuous color tends to envelope a room, providing a neutral background for colorful contrasts. Dark ceiling and wall colors can also work well in a room that's filled with abundant natural light. But avoid dark ceiling and wall colors in a room that lacks natural light as that color strategy is likely to create a dismal and dreary look.
Keep in mind, personal preference plays a major role in deciding whether to use a different color for the ceiling, rather than a color already in use on the walls of the room.
If you want to paint the ceiling white, do not use an extra- or ultra-white ceiling paint color because those whites are so white, they may appear to be blue.
Also, if you plan to paint the ceiling, obtain a large color chip of the color you are considering and lift it way up over your head. Why are you doing this, you ask? It has to do with lighting; you must hold your paint chip the way it's going to be viewed on the wall.
Again, here are some instances when you can choose a color for your ceiling instead of just using white.
When you have a warm color palette and white would be too stark, ivory or a soft white are ideal for a warm color palette.
When you have a high ceiling, using color on the ceiling creates the illusion and feel of a lower ceiling.
Decorative, coffered or tray ceilings are perfect for color! It can help to make the ceiling the focal point of the room.
When you want to add interest to your room, use color on the ceiling.
When you have a very large, open-concept home, use color to define a space.
Add just a little color to your ceiling if you want it to coordinate with your drapery without distracting from it.
Small room? Monochromatic color works great. Use a darker shade of your wall color to accent your ceiling while giving the room a larger appearance with the same hue.
There is so much you can do with your ceiling color, and remember the ceiling represents one-sixth of the space in a room, but too often it gets nothing more than a coat of white paint. In fact, for decades, white has been considered not only the safest but also the best choice for ceilings. While there are times when a white ceiling is the perfect solution for a room, if you never consider anything beyond ordinary white, you may be missing an opportunity to add excitement and drama to a room. So I say, go for color, and remember; there is First Time for Everything!
Applying a contrasting color to the ceiling can dramatically alter your perception of the space. It's like a reflector bouncing light down into the room, and the quality of that light affects the room's character.
Remember to tune in to YCCA's Hammer Time twice each weekend Saturday and Sunday morning 7:00 am on KQNA 1130 am/99.9 fm/95.5fm or the web kqna.com. Listen to Sandy and Mike talk about the construction industry and meet your local community partners. A wildly fun local show.
More like this story
SUBMIT FEEDBACK
Click Below to:
This Week's Circulars
To view money-saving ads...