Educators call '#RedForEd' walk-in campaign a demand to do right by students, not only higher pay

By
Nanci Hutson
|
HutsonNanci
Originally Published: April 12, 2018 6:04 a.m.
An army of red shirts, red pants, red ties, even red sneakers, surrounded schools throughout the tri-city area on Wednesday as a means to remedy a decade of alleged educational neglect.
The statewide "#RedForEd" walk-in campaign was touted as a non-disruptive way to prod lawmakers to "fix" the way this state's leaders fund education. Higher teacher salaries and per pupil spending are deemed critical to stay competitive with the rest of the nation, area organizers said.
Whether or not this effort will thwart a walkout will depend on how Gov. Doug Ducey and the Legislature responds, they said.
"I hope we don't have to walk out," declared Gina Crow, a Chino Valley Unified third-grade teacher at Del Rio Elementary School.
The necessity of this grassroots movement is "heartbreaking" because teachers would much rather be in their classrooms with their students than picketing outside them, she said.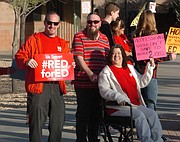 "I hope this will be enough," Crow declared.
Chino Valley Unified, Humboldt Unified and Prescott Unified teachers, administrators, support staff, students and parents all rallied before school hours to demand action with the mantra: "Our students deserve better."
Refuting claims by Ducey and some legislators, these Prescott-area educators said this effort is not selfish.
"It's not just about pay … it's about a biology teacher who taught a whole year without a textbook. It's just time," declared one of the walk-in organizers Helen Hyatt, a 12-year art teacher at Bradshaw Mountain High School in Prescott Valley.
Chino Valley organizer James McDermott, a Heritage Middle School eighth-grade language arts teacher, said this movement that is unifying the educational community is about reclaiming more than $1 billion taken away from public schools over the past decade.
"This is a big issue," McDermott said. "There is only so much a community can do to support deficiencies on their own. There is only so many Go Fund (Me) pages teachers should have to post."
Like his fellow organizers, McDermott said any type of strike would be a last resort.
"We don't want to walk out, but these problems need to be fixed, and we'll fix them," said McDermott, who like others noted the detrimental impact prolonged funding deficiencies have on student success.
These educators say they are tired of aged textbooks held together with duct tape; high school classes with more than 35 students each; outdated technology that inhibits students' abilities to compete with their national peers. These educators are tired of attending resignation and early retirement parties for colleagues who have opted to take jobs elsewhere for higher pay or leave their classrooms because they can't support their families on what they earn. These educators want their state leaders to see them as worthy professionals entrusted with the instruction and nurture of tomorrow's leaders.
Photo Gallery
Bradshaw Mountain High School Walk In 041118
"We should be able to attract the best because this is a great place to live. But then people see our salary schedules … Our message is that this is not about us; it's about the kids," said organizer Ron Killen, a Bradshaw Mountain High School special education teacher.
Bradshaw Mountain High School Principal Kort Miner walked side-by-side with his staff, clear that this is a long overdue mission that cannot be ignored.
As a nearly three-decade educator, 17 years as a high school science teacher and a decade as an administrator, Miner said the proposed 2 percent increase Ducey and legislators are suggesting "is a joke."
"It's time teachers are paid what they deserve, and we deserve to be better than 49th or 50th in the nation in per pupil spending," Miner said. "I know what these people do. They spend money out of their own pocket to feed kids and buy school supplies. It's time for this state to step up."
When Miner hears talk of teacher shortages, he sees red.
Arizona does not have a teacher shortage; there are 15,000 credentialed educators in Maricopa County who don't want to teach because of a lack of remuneration and appreciation, Miner said.
The thought of closing down schools because teachers are a no-show makes Miner "wake up in a cold sweat," he said.
And he is not alone — all of the interviewed area superintendents and principals said they dread the possibility.
Yet Miner and his administrative colleagues also say they don't blame folks for seeing this as an option if Ducey and the Legislature remain unwilling to correct a decade of educational inequities.
"I'm not telling them not to do it," Miner said.
At Taylor Hicks Elementary in Prescott, district Chief Financial Officer Brian Moore echoed the hope of so many others that this unified effort leads lawmakers to do the right thing.
The Prescott district is "blessed" with a generous community willing to go above and beyond with its financial support, Moore said. Other communities across the state are not so fortunate, he said.
"I hope our Legislature is listening, and the voices of Arizonans are heard," said the former Taylor Hicks principal. "Our kids deserve better."
More like this story
SUBMIT FEEDBACK
Click Below to: