Jessica Williams leads Embry-Riddle to Cal-Pac title, claims individual crown
College Golf: Cal-Pac Championships

Originally Published: April 10, 2018 5:18 p.m.
Updated as of Tuesday, April 10, 2018 11:35 PM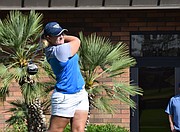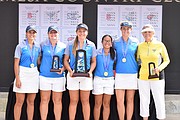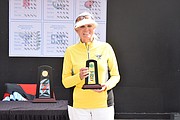 EDITOR'S NOTE: This story has been updated from an earlier version.
Men finish 2nd overall after unprecedented comeback with 1-under par performance
MESA — Entering day two of the 2018 Cal-Pac Golf Championships trailing the clubhouse leader by four strokes, Jessica Williams turned in a 3-over par 75 card to win her first individual conference championship Tuesday afternoon.
Led by Williams, Embry-Riddle claims its fourth Cal-Pac title in school history, with all five golfers finishing in the top five after the three-round, two-day event at Mesa Country Club.
Williams, a sophomore who finished runner up at the NAIA Women's Golf National Championships a year ago, is the fifth straight Embry-Riddle player to claim a Cal-Pac title after Lauren Kruszewski held the trophy from 2014-2017.
"It feels really good to put solid rounds together," Williams said via email Tuesday night. "We are peaking at the championship time right now when we need to."
Williams said all her hard work is paying off.
"I'm looking forward right now to catching up on school and prepare for nationals in Florida," Williams said.
Teammate Nicole Lopes entered play Tuesday morning atop the leaderboard with a 2-over par 146, but shot a disappointing 86 (+14) and finished second overall.
Elle Carlson and Trae Jones finished tied for third with a 237 (+21), while Megan Hessil finished with a 241 (+25), good enough for fifth overall.
Embry-Riddle head coach Kim Haddow said the women's team has really come on strong in recent weeks.
"With three wins in a row, and now qualifying for nationals? How exciting for us to have all five players on the All Cal-Pac team," Haddow said.
MEN COME UP SHORT
Trailing Marymount College for the Cal-Pac lead by 22 strokes, Embry-Riddle stormed back and almost completed one of the greatest comebacks in NAIA golf history, turning in a 1-under par 287 to finish second overall Tuesday.
Marymount held on after almost completely collapsing with a 19-over par 307 performance. They claimed the team title with an 895 (+31), while the Eagles finished with an 897 (+33).
Marymount's Michael Padilla finishes first overall with a 1-under 215.
"The determination that our men's team displayed to come back with an exceptional third round to put us back into contention for the Cal-Pac title [was impressive]," men's head coach Mike Haddow said.
Jacob Turner finished third overall with a 6-over par 222, firing a 2-under par 70 Tuesday, while Matt Andrews finished fourth overall with a 7-over par 223. Garrett Hogan finished tied for sixth with an 11-over par 227.
UP NEXT
The 2018 NAIA Golf National Championships are scheduled for May 23-25 at PGA National Resort in Palm Beach, Florida. Tee times have yet to be determined.
Brian M. Bergner Jr. is sports editor for The Daily Courier. Follow him on Twitter and Instagram at @SportsWriter52, or on Facebook at @SportsAboveTheFold. Email bbergner@prescottaz.com or call 928-445-3333, ext. 1106.
More like this story
SUBMIT FEEDBACK
Click Below to: