Newly-adopted dog saves kindergartner in Wet Beaver Creek
Halie Chavez, Verde Independent
Originally Published: April 9, 2018 3:04 p.m.
Updated as of Tuesday, April 10, 2018 6 AM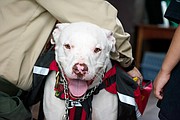 Beaver Creek — On Sunday, 6-year-old Fallon Lennox and his family were picnicking at Wet Beaver Creek east of Cottonwood.
Tommy Lennox, Fallon's father, says Fallon fell into a part of the creek too deep for him to stand. Fallon cannot swim.
"It was too cold, they weren't supposed to be swimming, and Fallon fell in the river and got swept down the river toward the little falls. All the adults were running to him and couldn't get to him – the dog got to him and pushed him up to shore."
The family has only owned Yeti, formerly known as Abel, for three weeks. Yeti was named for being big and white, and for being adopted on a snowy day. He is a pit-bull mix. Initially, when considering whether or not to adopt Yeti, the family thought he may be too big. Yeti weighs 86 pounds at just a year old.
"Here's this beautiful dog that saved this boy's life," said Elizabeth Gerstner of the Verde Valley Humane Society. "It's amazing."
Lennox described Yeti as planting his feet in the water and blocking the current from Fallon, while pushing him to shore.
"I was just yelling at Fallon that the dog's saving you, grab on to the dog," Thomas Lennox said. "The dog literally pushed him to the person that was closest … He's Fallon's best friend."
Yeti had Angus hamburger and a sausage for dinner that night.
More like this story
SUBMIT FEEDBACK
Click Below to:
This Week's Circulars
To view money-saving ads...