Biopic on Supreme Court eminent domain ruling could come to Prescott
Organizers need more tickets reserved for screening to happen

Originally Published: April 8, 2018 6 a.m.
The Institute for Justice is looking to bring "Little Pink House," a biopic on the Supreme Court's "Kelo" ruling to Prescott Valley for a one-night only screening – but at least 58 more tickets are needed before the screening can happen.
Starring two-time Academy award nominee Catherine Keener and Emmy nominee Jeanne Tripplehorn, "Little Pink House" is an independent film which tells the story of Susette Kelo who fought against eminent domain abuse and went to the United States Supreme Court in a landmark case, according to Institute for Justice Vice President for Communications John Kramer. Kelo's niece, Jackie Kemsley, has worked for 20 years in the Prescott Unified School District and is helping to present the film, Kramer said.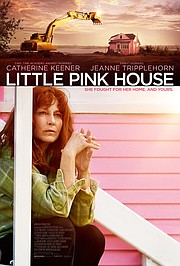 The film's screenplay is adapted from the book "Little Pink House: A True Story of Defiance and Courage" and was written by Courtney Balaker who is also the director. It came about when the Institute for Justice found out Balaker and her husband had started their own production company and thought it would be a good fit to turn the story into a motion picture, Balaker said.
"I read it," she said regarding the book. "I could not believe something like this could happen in this country."
In the film, Susette Kelo, played by Keener, buys her first home and paints it pink. However, the Connecticut governor plans to bulldoze the house for a development that would benefit the pharmaceutical company Pfizer, causing Kelo to fight back and take her case to the Supreme Court, according to a prior news release by Kramer.
It was a 5-4 decision where she lost the case and the neighborhood was bulldozed, Balaker said. While once-developer and now-President Donald Trump and the liberal justices of the Supreme Court were in favor of the decision, 85 percent of American citizens thought the decision was bad, she said.
"How often do you have an issue where you can get both sides to agree on it?" Balaker said. "We find (the film) does a rare thing of uniting both sides."
The case launched a nationwide backlash against eminent domain abuse, the release stated. The Supreme Court used the ruling to expand the power of eminent domain allowing for its use when a developer promises it might may more in taxes if given someone else's land rather than using it for public use as required by the United States Constitution.
"Because of the grassroots backlash at the state level against eminent domain abuse, however, the 'Kelo' case is justifiably seen as a situation in which the government won the battle, but lost the war," the release stated. "Still the Institute for Justice, which represented Kelo, stated that more reforms are still needed if the abuse of this government power is to be ended once and for all." Eminent domain abuse is becoming a hot issue once again, Balaker said with the release mentioning there are eminent domain hot spots around the country. In an example, it states Cumberland, Maryland, is trying to bulldoze a number of homes to make way for a chain restaurant.
On a larger scale, Balaker said, the issue of eminent domain comes up when discussing the controversial border wall.
"Eminent domain will most certainly have to be used for some of that," she said.
The film is being screened at 6:30 p.m. Monday, April 23, at Harkins Prescott Valley 14, 7302 Pav Way. However, if not enough tickets are sold, it's not going to happen, Balaker said.
Those interested have until Monday, April 9, to get tickets. They're $12 and can be purchased online at www.tugg.com/events/little-pink-house-nraz.

For more information about the film, visit www.ij.org/press-release/little-pink-house-movie-hits-big-screen-seeks-end-eminent-domain-abuse/.
More like this story
SUBMIT FEEDBACK
Click Below to:
This Week's Circulars
To view money-saving ads...