Aspiring music legend is a teaching legend
Acoustic guitar, love of language integral pieces to retiring Abia Judd teacher's connection with children

By
Nanci Hutson
|
HutsonNanci
Originally Published: April 8, 2018 6:05 a.m.
Jane Robertson once aspired to be the next Joni Mitchell or Joan Baez.
A music major at Arizona State University, the now 65-year-old laughs at how her imagined career as a guitar-playing professional vocalist fizzled with reality. Instead she stumbled into an education course simply because she needed an elective to earn her degree. In that class, she found her true calling – as a singing/guitar-playing elementary grade school teacher.
"I needed to find a spot for my music, and I was NOT going to be the next Joni Mitchell," said Robertson who will retire at the end of the school year from a three-decade career at Abia Judd Elementary School in Prescott.
Robertson, who prior to Abia Judd taught three years in Australia and three years in Mesa, is a 2004 Arizona Teacher of the Year.
Ask her students what makes Robertson such a special teacher, and several will say it's because she plays the guitar and sings to them every morning.
Some of Robertson's favorite tunes: "Baby Beluga" by Raffi as accompaniment to a lesson on endangered animals; the Star Spangled Banner to promote patriotism and good citizenry, and "A Duck in the New York City" just because it's fun.
Some of her students say they like her class because she's nice – she doesn't raise her voice. One said she likes that Robertson's rewards include a steady supply of chocolate Hershey kisses.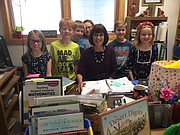 "I love singing with her every day and I love the art projects we do, and I love the chocolate kisses she gives out," enthused student Ally Scimeca said.
One day this last week, the petite brunette was on the floor in the far back center of her classroom with a small group of children reading a story about snowy owls. Nearby, a couple other students were cutting up blue cardboard to make dinosaurs. Across the way, more children were filling in the blanks on a writing assignment while still another table kept busy with a series of math problems.
Imperceptibly, Robertson looks up for a moment. She quietly instructs a boy wandering nearby to return to his assigned task. Her voice is soft and steady as she returns to reading with her group. The boy complies, no argument.
A few minutes later, Robertson makes her way around the room. She stops to offer guidance to a few, and encouraging words to others. With a practiced ease, Robertson fixes a computer glitch for one student before advising another student how to deescalate from his frustration with another student. Then it's time for a quick thank you to a parent volunteer and recess.
"She knows how to get to each child on their level," said parent Jamie Frett. "She's super caring. My daughter (Chasey) knows she is loved."
Prescott Unified Schools Superintendent Joe Howard considers Robertson one of the district's superstars, a devoted teacher whose three daughters Megan, Hiliary, and Tessa – attended Abia Judd and all boast a Prescott High School diploma. Robertson, whose husband, David, is a retired science teacher, said she timed her retirement with her youngest's upcoming college graduation.
"She's a legend in PUSD," Howard said. "She's just such a natural teacher. Kids love her class and learn so much. EVERY time you walk into that room, kids are learning. Often, you will catch her playing the guitar and singing."
The best way to describe her classroom "magic" is simply to go and watch, Howard said.
A lover of the English language, Robertson said she often reads aloud literature that may be above the student's reading level but offers them insights that inform their reading and writing as they progress.
"I'm very organized," she said of the time and thought she puts into making her classroom flow appear seamless from one activity to the next. "And I change it up all the time."
Her class is "the perfect mix of confidence, experience, training and love that equates to a lot of learning in an atmosphere that makes learning fun," Howard declared.
Robertson appreciates the high praise, but is clear she considers her students, and her career, one of the greatest blessings of her life. Once she started in a classroom, she said she never looked back.
"This is a profession that has its problems, but I'm in this because of the kids to, hopefully, make a difference in a kid's life.
She admits the politics around education can be disheartening, but she never tires of her students.
"This is where I was supposed to be," Robertson said.
More like this story
SUBMIT FEEDBACK
Click Below to: