Arizona families spending less at grocery store than a year ago

Originally Published: April 8, 2018 5:50 a.m.
PHOENIX — Arizona families are probably spending a little bit less for groceries than they were a year ago.
New figures from the Arizona Farm Bureau Federation put the cost of a typical "market basket'' of 16 typical items sold during the first quarter of the year at $48.14. That's down about a dollar from the same period a year earlier, though up more sharply from the last quarter of 2017.
A lot of what the survey means to individual families depends on what they're buying.
For example, bacon is becoming more of a bargain.
Farm Bureau shoppers report they were able to get a pound of the traditional breakfast meat for $4.51 a pound. That's down about 18 percent from the first quarter of last year.
But there's a real shock for those who prefer something a little more upscale.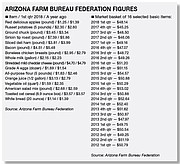 The report shows a pound of sirloin tip roast ringing up at $7.39 a pound. That's up 61 cents in the past three months — and $1.53 more per pound than what shoppers were paying for the same cut of meat at this time last year.
There are alternatives for beef lovers: Ground chuck remains at about the same price per pound it was last year.
The Farm Bureau survey is based on what its shoppers find the cost of the selected items at stores throughout the state.
It includes discounted specials but not some additional markdowns that can be available to customers who have their "affinity'' cards that provide either online coupons or other specials.
Farm Bureau officials also say that the best way to stay within a budget is to create a list — and stick to it. The cost of getting out the door gets higher when impulse items end up in the basket.
They also suggest not shopping on an empty stomach, saying some studies say that could increase the total purchase costs by up to 15 percent. And, along the same lines, leaving the kids at home may avoid some demand for a not-really-necessary item.
More like this story
SUBMIT FEEDBACK
Click Below to:
This Week's Circulars
To view money-saving ads...