Prescott Airport could have commercial flights again within weeks
Interim contract process has been expedited, city officials say

By
Cindy Barks
|
Cindy_Barks
Originally Published: April 7, 2018 6:03 a.m.
Flights to LAX, Sky Harbor, or Hawthorne, California, could be offered within the next month or so at the Prescott Municipal Airport, depending on the airline chosen to take on Prescott's commercial air-service contract.
Prescott Airport Director Robin Sobotta reported Friday afternoon that, assuming the contract proceeds as anticipated, commercial air service could be restored at the Prescott Municipal Airport by mid-May.
Commercial air service was suspended at the local airport on March 26, after Great Lakes Airlines — Prescott's long-time sole commercial airline — announced that it was ending its flights to Los Angeles and Denver at midnight that day.
That set off a process between the city and the U.S. Department of Transportation for getting an interim replacement to fill in on the community's Essential Air Service (EAS) subsidy program.
The Department of Transportation released an expedited request for proposals (RFP) on March 27, and the deadline for proposals was April 3.
PROPOSAL BASICS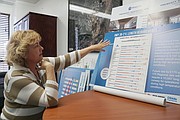 Three airlines — Boutique Air, based in San Francisco; Advanced Air, based in Hawthorne, California; and Mokulele Airlines based in Kona on the Big Island of Hawaii — submitted bids for the interim contract.
The three proposed a variety of options for aircraft, number of flights, subsidy amounts, and flight locations.
Boutique, for instance, submitted two options for flying into Los Angeles and Phoenix, using KingAir 350s or Pilatus PC-12s airplanes. The airline proposes six or seven daily roundtrip flights (four or five to LAX, and two to Phoenix). Its proposed federal subsidy for one year would range from $4.4 million to $6.8 million.
Advanced Air proposed two options for flying into Hawthorne, California, and Phoenix using KingAir 350s. Its daily roundtrips would total two or three, and its subsidy would range from $2.8 million to $2.9 million.
Mokulele Airlines proposed three daily roundtrips to Los Angeles and Phoenix using Cessna Caravans, with a subsidy of $1.5 million.
Each of the airlines is proposing use of eight- or nine-seat aircraft, all of which have lavatories on board.
"For the interim service, there are limitations on the size of equipment airlines can bring within 30 days," Sobotta said.
The Prescott Airport Advisory Committee is meeting today, April 7, to discuss the proposals. While the committee will consider making a recommendation on the proposals, Sobotta said the Department of Transportation is responsible for the final decision on the EAS contract.
The emergency meeting was set for Saturday to expedite the process, Sobotta said, noting that the longer the city takes to make a recommendation to the Department of Transportation, the longer it would take to restore commercial service at the airport.
SHORT-TERM CONTRACT
The interim contract that is currently under review likely will fulfill the timeframe of the contract that Great Lakes suspended, Sobotta said. That two-year contract was set to expire in April 2019.
Also underway soon will be the long-term EAS contract that would begin after the end of the short-term contract. Sobotta said bids for that process are due by July 3.
The city opted for an interim contract rather than immediately pursuing a new long-term contract for a number of reasons, Sobotta said.
For instance, the coming long-term contract could generate interest from larger airlines. "Most of the larger carriers need more than a week to make a proposal," she said.
In addition, Sobotta pointed out that the airport's main runway would be closed for about 16 days this fall to allow for improvements. The planned $6.1 million project will aim to bring the runway up to federal standards by doing improvements such as strengthening the edges of the runway.
While the airport has a shorter runway available, Sobotta said it would not accommodate larger aircraft.
"A smaller commercial service aircraft could use the shorter runway, but if we were to invite larger aircraft in, they would need a longer runway," she said.
GREAT LAKES' RECORD
Great Lakes Airlines had held the contract for Prescott's EAS subsidy off and on since 2005, and over the years, the city fielded a number of complaints about the airline's reliability.
Although recent records on the number of flight cancellations were not available at the city this week, Sobotta said the airport had received numerous calls from people who voiced concerns about cancellations and late flights.
As a part of its suspension announcement, Great Lakes urged customers holding tickets to call 1-800-554-5111, or visit the airline's website at www.greatlakesav.com, to request a refund.
Although customers reportedly had a difficult time getting through to the number in the days after the announcement, two local residents said they eventually reached the airline and were assured that they would be reimbursed for their tickets costs.
Prescott resident Stephen Kahne said Friday that the airline had informed him that his refund had been issued, although he had yet to see the refunded amount on his credit card statement.
"They were very helpful once I got through," said Kahne, who had earlier purchased tickets to Los Angeles.
Prescott resident Jeff Leavitt, who had tickets to Denver, said he also eventually got through to the airline, and was told he would be getting a refund.
More information about the bids for the short-term EAS contract is available on the city's website at: http://www.prescott-az.gov/wp-content/uploads/2018/04/CC-BCC-Group-AIRPORT-ADVISORY-COMMITTEE-Date-4-7-2018-3.pdf.
Related Stories
More like this story
SUBMIT FEEDBACK
Click Below to:
This Week's Circulars
To view money-saving ads...