Watch: Abandoned truck removed from Kingman mountain by helicopter
Vanessa Espinoza, Kingman Daily Miner
Originally Published: April 6, 2018 5:57 a.m.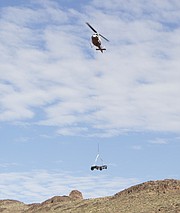 KINGMAN – Some people enjoy off-roading, but every now and then the off-road vehicle can get stuck and abandoned on the top of a mountain where later on it may need to be removed by a helicopter.
Arizona Off-Road Rescue and Towing did just that, removing a blue 2017 Chevrolet Silverado 1500 from the mountain off of Sierra Vista Avenue and Stockton Hill Road Thursday morning.
Eliot Colsten, owner of Arizona Off-Road Rescue and Towing, said the driver of the truck originally got stuck up on the mountain and had to call the fire department to come and help.
The Arizona State Land Department deemed it necessary for it to be removed by helicopter so the desert wouldn't be damaged, Colsten said.
People visited the abandoned truck and took several parts such as the grille, stereo and headlights. The left rear-tire was burnt off as if the driver was trying to get the truck unstuck.
"The truck was fully intact and had to be cut up into pieces by the jaws of life," Colsten said.
The parts of the Silverado are being towed off to a metal salvage yard in Phoenix by BD AZ Towing from Surprise.
More like this story
SUBMIT FEEDBACK
Click Below to: