See 'Beauty and the Beast' at Yavapai College

Originally Published: April 6, 2018 6 a.m.
Updated as of Friday, April 6, 2018 6:12 AM
The Yavapai College Performing Arts Department is performing Disney's "Beauty and the Beast" in shows over the next two weeks.
The college had been trying to obtain the rights for the show for the last three years but couldn't because of the national tour, said director Nanette Hofer. However, YC got the rights to perform the popular musical as soon as the tour was over and the rights became available, Hofer said.

"It's just a perfect show for us, for the community, for our students, and it's a beloved story and tale and it just works," she said. "The show works on every level. The script is so strong because of the story, but the music is soaring. It's just glorious music."
Showtimes -- at the Yavapai College Performing Arts Center, 1100 E. Sheldon St., in Prescott -- are 7 p.m. Friday, April 6, Saturday, April 7, Friday, April 13 and Saturday, April 14. A 3 p.m. matinee is Sunday, April 8, and a 2 p.m. matinee is set for Saturday, April 14. Tickets range from $25 to $35, with $10 tickets for anyone under the age of 18. A $3 service fee added to each purchased ticket. They can be purchased online at www.ycpac.com or by calling 928-776-2000.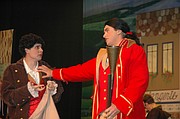 The cast has been rehearsing since January, Hofer said.
"I had such a great turnout for auditions for this that I actually am double casting most of my leads," she said. "I have nothing but praise to say about my cast. They have worked so hard, and they are so positive. I think it's because they love the story, and they love the music."
Playing the Beast is Darrell Rowader, master chorale conductor, and Andre Sylvester, a former Disneyland cast member who is now a musical theater major at the college, Hofer said. Neither of them will be wearing a mask, but will be relying on makeup, prosthetics and wigs to create the fearsome Best appearance, she said.
Belle is played by Mary Rizk, a student who is graduating in the spring. Also playing Belle is Maya Sharratt, a freshman with fabulous talent, Hofer said.

"We've got kind of a more seasoned one and one that isn't as seasoned, but they're both fabulous," she said of the two actors playing Belle. "Well worth seeing both casts."
The casts will be alternating between shows, Hofer said.
One challenge to directing the stage show is the preconceived notions that audiences bring to the theater after they've seen the "Beauty and the Beast" movies, Hofer said. But getting the performers to try create their own interpretations of the characters has been fun, she said, adding that all the actors she has cast have brought something different and new to the characters.
A big reward of directing the show has been the pleasure of bringing to life on stage a story about the power of love and forgiveness to transform, Hofer said.
"That is such a wonderful message to tell our children and to remind ourselves; that we aren't what we look like on the outside," Hofer said. "When we can see beneath the surface of a person to their true essence and learn to really care and love them for who they are, they can, in turn, learn to forgive and love themselves as well. That love can then transform us all … I think our world needs to see this story right now."
For more information, visit www.ycpac.com.
More like this story
SUBMIT FEEDBACK
Click Below to: