Originally Published: April 6, 2018 6 a.m.
The venerable Palace Restaurant and Saloon on Prescott's Whiskey Row has been sold to new owners.
Dave Michelson, who owned it for over 20 years, closed the deal on Tuesday, April 3.
"I just decided I was going to retire," he said. "I've been doing it 53 years, in the restaurant business, and decided it was time."
New owner Dennis McCormick said he and his wife, Derry, had grown tired of the St. Louis, Missouri, weather and were in Prescott on one of several trips to find a new home when they first went into the Palace.
They moved here at little over a year ago.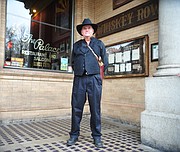 "One day, about six months ago, I was sitting at the bar, and figured out they were showing the Palace for a sale," he said. "I did some research … and I liked the numbers and what I saw."
"We heard there was a gentleman from California who was interested in buying it, and we didn't necessarily want to see it go outside of the Prescott area," he said, so Dennis and Derry, along with Scott Stanford and Martha Mekeel, made an offer and it was accepted.
"They're real excited, and they've been customers for a long time," Michelson said, "as am I — I'm happy they got it."
A STORIED HISTORY
The Palace Restaurant and Saloon holds the distinction of being both the oldest business and oldest bar operating in Arizona. It was opened in 1877.
Built by D.C. Thorne, it was one of over 40 bars which, at one time, comprised Whiskey Row.

The Palace was destroyed in a fire in 1883, but a new owner rebuilt the saloon and it re-opened the next year with a stone foundation and a metal roof.
Those additions, however, couldn't save the Palace from a fire that swept through Whiskey Row in 1900.
The story, perhaps apocryphal, is that patrons of the bar picked up the back bar and carried it out of the burning building. They set it down across the street, in front of the county courthouse, and continued their drinking as the other side of the street burned.
Too tough to die, the saloon was rebuilt and re-opened in 1901.
During Prohibition, while the saloon closed down, a speakeasy continued to operate in the basement.
In 1996, after Michelson bought it, he restored it to better reflect the original look, including swinging doors, hardwood floors, oak wainscoting and leaded-glass windows.
The bar has been featured in several films, including "Junior Bonner," starring Steve McQueen, and "Billy Jack," starring Tom Laughlin.
THE SALOON WITH "ALLURE"
Business has been booming lately: the Palace racked up record sales in the last month that Michelson owned it.
"It's definitely working," he said. "I'm happy for them. It's a fabulous restaurant."
McCormick is retired from a career in engineering. He started his own company in 1986 and kept it until 2011.
"We did a lot of work in the food and beverage industry," he said.
McCormick said there are no plans to substantially change the Palace; they want to keep "the allure that it presently (has)."
Planned upgrades include a kitchen expansion, and the ladies restroom may get a makeover. The Palace merchandise area will also be expanded.
"We fell in love with the town," McCormick said, and "the first time we came into the Palace, we were just like, 'Wow, what a great place.'"
"I tell people, Prescott reminds me of America 30 or 40 years ago."
Editor's Note - This story has been updated to correct that there are four owners.
More like this story
SUBMIT FEEDBACK
Click Below to:
This Week's Circulars
To view money-saving ads...