Egg hunt and crafting fun in Cordes Lakes
Pat Williamson
Originally Published: April 6, 2018 6 a.m.
It was pandemonium when the "Easter Bunny" arrived and declared it was time for the egg hunts to start at the annual Easter Egg Hunt in Cordes Lakes.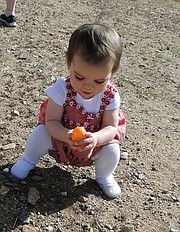 The under-3 group was first and allowed only one person to accompany them on the hunt. This gave them a chance to find their own eggs, although there were so many distractions, especially getting to handle the egg and see what was inside. When the 4- to 7-year-olds came out, it was look out, as they knew what they were doing. They made short work of their hunt. The 8-to-10 group was also quick in clearing the field of eggs.
Some eggs held candy and some had a number. If you got a number, you were able to choose a prize when your number was called. The table was filled with games, toys, shoes, tiaras, cars, etc. Then there was the ticket call. Each child was given a ticket and filled in their name (some had help) and dropped it in the bucket. If their name was called they got their choice of a stuffed animal or Easter basket. With 40 to 50 available prizes, it was difficult to make a choice.
No one went home without a prize, not counting all of the candy they found inside their eggs. It was quite a pleasure to see some of the older children sharing their eggs with younger ones who didn't find very many — and this wasn't done only with their siblings.

With an estimated 130 to 150 children in and out during their age group hunts, we hope the Center will still be standing for the next event.
More like this story
SUBMIT FEEDBACK
Click Below to:
This Week's Circulars
To view money-saving ads...