Construction Career Days offers high school students free training event
Originally Published: April 6, 2018 6 a.m.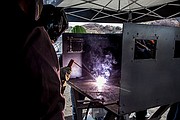 Construction Career Day, sponsored annually by the Arizona Association for Construction Career Development, reaches out to high school students throughout Arizona.
The event offers students a hands-on construction experience over two days, at no cost.
This year's event is set for Nov. 1 and 2 at Arizona Army National Guard -Arizona Army National Guard Papago Site, 5636 E McDowell Road, Phoenix.
High school students have attended the Construction Career Days event from all over Arizona, traveling as far as 300 miles to attend and learn about careers in construction.
According to the U.S. Department of Labor, construction is the only goods-producing sector in the United States in which employment is projected to grow; construction employs approximately 6.9 million individuals annually. The construction industry is the second-largest employer in the nation.
Meanwhile, however, the construction industry faces a shortage of qualified personnel, and the construction work force is aging, with 47 the average age for constructions workers today.
Some incentives for young adults considering a career in construction include the following: average starting pay scales for apprentices are between $11 and $15 per hour. They are required by Federal law to receive a raise at least once a year. Most get a raise every six months. Seventy five percent of apprentices are in programs that provide health care and pension benefits.
And construction offers a favorable career ladder for those who wish to grow and expand their talents in the industry.
Demand for skilled workers is so great that the number of apprentices in Arizona has more than doubled in the last five years, according to the Arizona Department of Commerce Apprenticeship Services Office.
As far as the industry's annual Career Day in Arizona, those who have attended have praised the event.
Lori Sloan, a teacher from Mesquite High School, in Gilbert, wrote to the AZCCD about how much her students enjoyed it.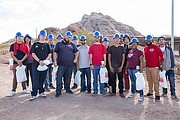 "You should have seen the grins on their faces as they drove a bulldozer and the back hoe and completed some of the other tasks that were available to them," she wrote. "Thanks again for making this possible!
And Marina O'Connell, of Blue Print Education in Glendale wrote of her students' participation in the event: "It really changed their lives!"
Thom Dickerson, director of career and technical information for Dysart Unified School District, wrote to the AZCCD after he and his students attended it's Career Day, "You are making a huge impact on the future lives of so many high school students."
Donna Lyons, a career counselor at Coconino High School, who attended a Career Day with students, wrote, "They didn't want to leave."
Debby Richberger, Mesa Public Schools, wrote: "I know we don't have the easiest group, but you really were patient and worked so well with them. . . . Thank you for taking the time to give us a tour and fill their heads with positive ideas and information."
Public-private partnerships are central to the Construction Career Days event, as well as its vision and mission.
ACCD, a 501(c)3 non-profit organization, works with many industry partners to promote a range of careers in construction to America's youth and the workforce of the 21st Century.
The ACCD Board and AZCCD is made up entirely of volunteers who all have a passion for the construction industry and want to share that with youth.
In 2011, the nonprofit group created a career guide, which contains information for related technical education, trades and higher education and lists Construction Career Day exhibitors and sponsors.
Every year the guide is updated and handed out to teachers and counselors at the event and available to download from the website — http://azccd.com/
The National Construction Career Day began in 1997, with Mike LaPointe, Greg Mooney, Humberto Martinez and Ross Martinez. Their initial concern was the severe shortage of skilled workers in the highway construction industry. That shortage had become apparent in reduced quality and a decrease in the number of bidders submitting quotes for highway projects in Texas. Their discussions focused on strategies to address this workforce shortage.
Mooney suggested marketing the construction industry and career opportunities among high school students. Thus, the "Highway Construction Career Days" event was born.
The Arizona Construction Career Development (AZCCD) event was still in the planning stage in 1999.
Since then, Martinez has been the mentor who orchestrated the largest construction-career event in Arizona.
From the beginning; AZCCD has been an example of community partnerships.
As evidence of the interest in the construction industries, AZCCD events to date have featured a total of more than 400 displays from exhibitors and 500 pieces of equipment.
— Information provided by Arizona Association for Construction Career Development
More like this story
SUBMIT FEEDBACK
Click Below to: