Condos on Cortez
130 North Condominiums to be first of their kind in downtown Prescott
Originally Published: April 5, 2018 6:02 a.m.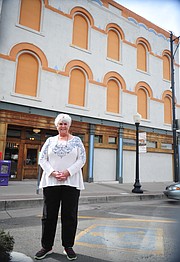 Judy Numbers was out walking one day, when she spotted a "for sale" sign in the window of the now-closed Prescott Downtown Athletic Club, "and it just caught my eye, and the wheels started turning, and that's what I came up with" — a design for six condominiums upstairs and two commercial spaces on the ground floor of the three-story building.
Numbers, who has a background in construction and interior design, saw her preliminary plat — for what's being called the 130 North Condominiums — approved by an enthusiastic City Council last month.
Councilman Phil Goode thanked Numbers for "keeping the historical nature of this building intact. It reinforces our historic condition of the city."
Mayor Pro Tem Billie Orr called the project "exciting." Councilman Jim Lamerson, who noted that he owns a shop right across the street from the proposed project, added that it would "(bring) in the opportunity for more people to shop, live and play in downtown Prescott."
The building, constructed in 1900, was once the Prescott Hotel. It was rebuilt in 1949 and, in 1979, had steel I-beams installed.
"The lounge side is going to remain intact," Numbers said. "Of course, we'll have to make some changes … the ceiling and the light fixtures and most of the woodwork and the stairwell will remain as it is. The outside will remain — we're going to open up the windows — but the front entrance, that's all wood and real nice, we're going to restore that and maintain that."
She said the building is "structurally sound," which she is confident in saying because she's had it inspected by "engineers and roofers and anybody I could think to get in there."
This is Numbers' first project as an owner/developer, although she does have 25 years of construction experience and is an interior designer.
"I'm using that background to get this put together," she said, and pointing out that she worked with the architect to create the plans.
Numbers plans to sell, not rent, the condos, and she expects to buy one herself.
Asked what her biggest challenge has been so far, Numbers said the banks' reluctance to lend money for a speculative project has been problematic, but she believes she now has a deal put together "that's going to work out perfectly."
The next challenge she foresees is finding the people to buy the condos.
That time is not far off.
"I'm hoping before the end of the year, we will have it in a condition that we can start pre-selling units," Numbers said.
More like this story
SUBMIT FEEDBACK
Click Below to: