Originally Published: April 4, 2018 9:25 p.m.
Photo Gallery
Yavapai Vs Glendale Baseball 040318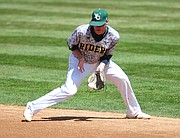 PRESCOTT — Like any baseball season, the 2018 campaign for the Yavapai College baseball team has seen its fair share of ups and downs.
Tuesday's doubleheader split with Glendale Community College was no different. The Roughriders earned a 5-4 victory in game one, getting just enough offense to come out on top.
Game two was a different story, however, as the Roughriders committed five errors in a 9-5 loss. Yavapai (21-20, 10-12 ACCAC) has now lost five of their last six and are 3-7 in their last 10 games.
Skipper Ryan Cougill said the consistency has been an issue from day one with this club.
"One day we'll really swing the bats, then have a tough time fielding the ball. It's frustrating," Cougill said in a phone interview Wednesday night.
The Roughriders have 14 games left on the schedule and remain four games back of Arizona Western and Cochise College, which are tied for third in the ACCAC standings.
"It seems like most days we're pitching it well. And, if there's something you'd want to be consistent, that would be it," Cougill said.
Over the last month of games, the sixth-year skipper said Yavapai's run production is "much improved."
"That's due to finding an identity. Our identity is small ball. Strikeouts go down, sacrifice hits go up," Cougill said. "For us to be successful, we have to do a really good job with situational hitting and runners in scoring position."
Yavapai is second in the country in sacrifice hits (37), ninth in stolen bases (93) and 11th in walks (188).
To play small ball, however, the Roughriders need to be better than average defensively, but have committed 68 errors (.949 fielding percentage) already in 41 games played this season. That averages out to about 1.65 errors per game.
In 2016, when the Roughriders won the national title, they committed 102 errors (.957) in 69 games, or 1.47 per. That's not much difference than this spring, but that 2016 club could mash at the plate, sporting a .346/.429/.551 line.
"We could absorb having mistakes in the field that season due to our offense," Cougill said.
This spring? Yavapai is hitting just .299 as a team, while reaching base at a .404 clip and slugging .454.
Here's a recap of Tuesday's split with Glendale:
GAME ONE
Gianni Tomasi had three hits but his two-out, two-RBI double in the bottom of the first inning gave the Roughriders an early 3-0 lead and they never looked back, taking game one of a doubleheader 5-4 over Glendale on Tuesday afternoon.
Over Torres' two-run homer in the fifth inning cleared the center field fence, giving Yavapai a 5-0 lead, but Glendale (22-20, 14-12 ACCAC) tallied two runs in each of the sixth and seventh innings to cut the lead to one, 5-4.
Jonathan Stroman threw five shutout innings before the Gaucho bats woke up. He lasted 6 2-3 innings, allowing four runs on seven hits and striking out five on 89 pitches.
Stroman was removed with two outs in the top of the seven inning and the bases loaded. Darius Vines struck out Elijah Celaya to end the game.
Torres was 1 for 2 with a walk and runs scored, while Jesus Pulido was 1 for 1 with two walks, an RBI and a run scored.
Glendale's Cade Biddle was 3 for 4 with two RBIs, while Matt McDonald had two hits.
GAME TWO
Dominic Hamel allowed five runs, two earned, in five innings pitched while walking four and striking out seven as the Roughriders committed five errors in a 9-5 loss in game two Tuesday.
Tommy Sacco was 2 for 5 with two RBIs, Logan Williams had two hits, a home run and two RBIs, while Tomasi recorded two hits and a run scored in the loss.
Wacy Crenshaw was 3 for 5, including two home runs and four RBIs for Glendale.
UP NEXT
Yavapai travels south to play a doubleheader with Mesa Community College (32-9, 17-9 ACCAC) on Saturday, April 7. Mesa began the month of March with 12 wins in its first 13 games, but have since gone 1-5 and were just swept by Glendale after being outscored 18-5.
Tommy Costello and Vines are expected to start Saturday for the Roughriders. First pitch in game one is set for noon in Mesa.
Brian M. Bergner Jr. is sports editor for The Daily Courier. Follow him on Twitter and Instagram at @SportsWriter52, or on Facebook at @SportsAboveTheFold. Email bbergner@prescottaz.com or call 928-445-3333, ext. 1106.
More like this story
SUBMIT FEEDBACK
Click Below to:
This Week's Circulars
To view money-saving ads...