Centennial slips by No. 10 Badgers, 3-2
Prep Boys Volleyball
By
Doug Cook
|
dougout_dc
Originally Published: April 3, 2018 11:33 p.m.
Updated as of Wednesday, April 4, 2018 6:09 PM
Photo Gallery
Prescott Vs Centennial Volleyball 040318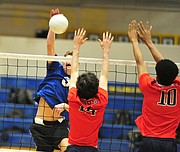 PRESCOTT — In the second match of a rare home-and-home series, Prescott's boys' volleyball team split with Centennial by the narrowest of margins on Tuesday night, ending the upstart Badgers' winning streak at three matches.
At Prescott's dome gym, the 5A No. 10-ranked Badgers succumbed to the No. 20 Coyotes, 3-2 (21-25, 26-24, 26-24, 18-25, 11-15), with seven power-point matches remaining in the 2018 regular season. Prescott's record dropped to 6-4 overall, while Centennial drew even at 4-4.
The Badgers edged Centennial, 3-2, on the Coyotes' home floor in Peoria March 28. Centennial's players were thrilled that they could return the favor a mere six days later, celebrating near their bench afterward.
"Last week, we were really upset that we lost," Coyotes middle blocker/hitter Koby Jones said. "Coach always says that we need to take care of the house. So, when we came up here, we came ready."
Centennial coach Cari Bauer said her team "matches up very similarly" to Prescott. The Coyotes made a key defensive adjustment after their loss to Prescott this past week, which helped them in the rematch.
"We have really good athletes, and so the volleyball experience really isn't there, but we're starting to get consistent to figure that out," Bauer added. "For us, it's staying smarter longer and making the stretches of being down shorter. We'll just try to get ourselves in the playoffs and go from there, maybe."
Despite the setback, it's been an impressive turnaround for Prescott, which did not win a match in its second season last spring, finishing 0-16 overall. (The Badgers went 2-7 in a truncated 2016 campaign, their inaugural year.)
"We didn't come in with too much confidence with our record from last season, obviously," Prescott captain and outside hitter Dallin Jex said. "But we're all a year older, a year stronger."
Prescott standout outside hitter Harris Temple said the Badgers are focused on ending the season strong and that they would enjoy qualifying for the state tournament for the first time under coach Josiah Ramirez.
"Going from 0-16 to 7-6 [including tournament matches] is just amazing," Temple said. "Me and Dallin play all the sports together – swim, basketball and volleyball – so we blend well together. And we've all been friends all last year, so our companionship on and off the court is amazing, and that helps us."
In 2018, the top 16 teams in 5A qualify for the state tournament May 5, 8, 9 and 11. The Nos. 1 through 8-ranked squads earn automatic bids to state. But the Nos. 9 through 24-rated clubs are paired in a one-match state play-in round at 6:30 p.m. May 3, at the higher-seeded teams' gyms to determine the final eight spots (Nos. 9 through 16).
"Our goal is to get in the Top 16 and get a bid in the tournament," Jex said. "So, if we keep that goal in mind and come up strong in these tough matches [that we have left], we should reach our goal. And that's what we're shooting for."
Added Temple, "We want to go as far as we can. We want to see what this team is capable of doing and we want to push the limits with us, achieve big things. We set our minds to that every single practice. Coach tells us, 'Think of the future.' "
Centennial's Jones, an All-State basketball player with a phenomenal vertical leap, credited Prescott for a hard-fought match on Tuesday. He said that he and most of his Coyotes teammates have been friends since middle school.
"Honestly, they're a good team – they're a really tough team," added Jones, who's in his second season playing volleyball. "They had a lot of great hits. They had great defense, and we did as well. It just went down to who had the better defense, and I thought we came out on top."
UP NEXT
Prescott welcomes 5A No. 14 Verrado (5-3 record in power-point matches) to the dome gym at 5 p.m. Thursday, April 5.
Centennial will host a tournament Friday in Peoria. The Coyotes are scheduled to face Mountain Ridge first.
Doug Cook is a sports reporter for The Daily Courier. Follow him on Twitter at @dougout_dc. Email him at dcook@prescottaz.com or call 928-445-3333, ext. 2039.
More like this story
SUBMIT FEEDBACK
Click Below to: