Quad City schools: Honoring two outstanding principals in Prescott Unified Schools
Originally Published: April 2, 2018 6:02 a.m.
PUSD is very proud to share that Teresa Bruso, Principal at Granite Mountain School, has been nominated to ASA Arizona School Administrators as Principal of the Year. Kelsey Secor, Principal at Taylor Hicks Elementary has also been nominated to Arizona School Administrators as Elementary Principal Rookie of the Year.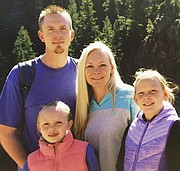 Ms. Bruso's and Mrs. Secor's nominations come as no surprise to their students, parents and staff. They both play active roles in the community as well as their schools, and are very deserving of the honors they are nominated for.
Bruso has been a principal in PUSD for seven years. The first four years were at Lincoln Elementary when it was a K-5 school. When the district restructured the schools in 2015/16, she opened Granite Mountain as a new 5th-6th grade school. Bruso was chosen as the new Granite Mountain principal because she is a true "change agent." Even before the school opened she had formed committees to hone their new school's mission and vision.
Three years later, students are provided STEAM infused curriculum, technology and blended learning, and intramural sports are all offered to students at GMS. Granite Mountain School has had increased enrollment and has been a model school for out-of-state visiting Administers and Governing School Boards.
Through Principal Bruso's leadership, GMS is a shining star in Prescott!
Secor came to Taylor Hicks Elementary as principal in the spring of 2016/17. She came to Taylor Hicks from Mile High Middle School and immediately formed collaborative relationships with staff, students and parents. She has put effective and efficient systems in place and enhanced the strong Bobcat culture. With just a year and a half as principal, Mrs. Secor has already become an integral part of the district's leadership team.
She has fully embraced the vision and goals of PUSD and has seamlessly embedded them in her school. Mrs. Secor serves as an instructional resource for effective pedagogical strategies, by using engagement and assessment strategies in staff meetings that her teachers and staff members take immediately back to their classrooms.
Secor has implemented a school-wide incentive program where students earn Bobcat Paws for showing good character, acts of kindness, responsibility, and academic achievements. (The Students can't get enough of this!) She is also implementing aspects of Capturing Kids' Hearts into Taylor Hicks which achieves PUSD's motto, "Every Child, Every Day." It is hard to believe Principal Secor is a rookie!
The Arizona School Administrator Awards recognize outstanding school principals who have succeeded in providing high-quality learning opportunities for students as well as demonstrating exemplary contributions to the profession.
Prescott Unified School District is proud Kelsey Secor and Teresa Bruso are nominated for these distinguished awards and will be there to support and celebrate with them when the awards are announced in April.
Information provided by Prescott Unified School District
More like this story
SUBMIT FEEDBACK
Click Below to: