Humboldt Education Foundation announces HUSD Teachers of the Year
Originally Published: April 2, 2018 6 a.m.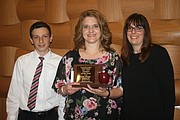 On March 27 the Humboldt Education Foundation held its annual Humboldt Unified School District Teacher of the Year banquet at the Prescott Resort.
It is with great pride that the Humboldt Unified School District primary Teacher of the Year was awarded to Mrs. Jani Wagter, a Title 1 teacher at Lake Valley Elementary and the secondary teacher of the year was awarded to Mrs. Moser, 8th Grade Honors Math teacher at Glassford Hill Middle School (GHMS).
Both finalists represent true dedication to teaching their students. Nate Tannehill, student at GHMS, wrote that Mrs. Moser "deserves to be the teacher of the year because at the beginning of the year she stepped up to teach 8th grade honors algebra when our first teacher quit on us."
Mrs. Moser splits her time between Glassford Hill Middle School and Bradshaw Mountain High School.
Congratulations to both teachers on this much deserved award and we thank you for your dedication to your students.
In January, students were encouraged to nominate their favorite teacher by writing an essay explaining why their teacher should be chosen as the HUSD Teacher of the Year. Each school selected one nominee from their essays to submit to the Humboldt Education Foundation for review.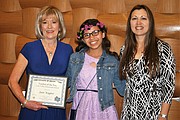 There were two categories for teacher of the year, a primary teacher (grades K-6) and a secondary teacher (grades 7-12).
The student essays were filled with comments and stories that truly show the meaningful way that their teachers have touched their lives. If everyone could think back to the one or two teachers that truly made a difference in their lives and could put on paper why they were so important, we would all have a few essays to submit. Students as young as 6 years old have submitted essays and can recognize and put on paper what it is that makes their teacher so special to them. This is why these amazing teachers are honored at this event each year.
Students were given the opportunity to come on stage with their teacher and their Principal to read their essay to the audience. Each essay was truly unique and heartfelt. Each student took the time to write down why they felt their teacher deserved the coveted Teacher of the Year award. Some spoke of how patient their teacher is with the class, making sure everyone understands a lesson before moving on. Others spoke of how their teacher always makes sure everyone leaves their class with a smile.
Following each essay reading it came down to the announcement of the finalists that were chosen by the Humboldt Education Foundation board.
The nominees for the K-6 category are as follows; Mrs. McCabe from Coyote Springs was nominated by Jessica Hinks, Mrs. Bowser from Granville Elementary was nominated by Colin Bowser, Ms. Pemberton from Humboldt Elementary was nominated by Alyssa Roberts, Mrs. Wagter from Lake Valley was nominated by Ulani Jackson, and Mrs. Taghon from Liberty Traditional was nominated by Hugo Garcia.
The nominees for the 7-12 category are as follows; Mr. Mayer from Liberty Traditional nominated by Wyatt Dougherty, Mrs. Knotek from Mountain View was nominated by Orion Virren, Ms. Visitacion from BMMS was nominated by Jade Rudy, Mrs. Moser from Glassford Hill Middle School was nominated by Nate Tannehill, Mrs. Sobo from BMHS was nominated by Savannah Nugent, and Ms. Marshall from BMHS was nominated by Jacquelyn Bassford.
Information provided by Humboldt Unified School District
More like this story
SUBMIT FEEDBACK
Click Below to: